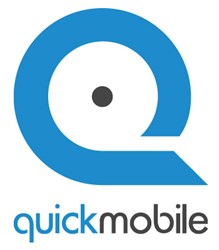 This enterprise-targeted integration will make it easier for event organizers to capture the insight and data needed to support the meeting's goals and objectives.
Vancouver, B.C. and London, U.K. (PRWEB) February 04, 2014
Two months after launching a global strategic partnership with Lumi Mobile, QuickMobile is pleased to announce that it has completed the first phase of integrating Lumi's patented Join In audience polling and discussion application into QuickMobile's MobileEvent platform.
New and existing QuickMobile customers that want a more sophisticated, immersive real-time polling and discussion experience can now use Lumi's Join In solution within the QuickMobile mobile event app. The completion of the first phase is an initial step towards further integrated interactive functionality over the months ahead.
Leading Choice for Real-Time Audience Engagement
"Lumi Join In stands out thanks to its elegant design and underlying architecture that delivers fast results for both the presenter and audience," said Craig Hughes, Vice President of Products for QuickMobile. "The solution provides easy-to-access polls and users can quickly start or join discussions with fellow attendees to get more value and meaning out of session content. This enterprise-targeted integration will make it easier for event organizers to capture the insight and data needed to support the meeting's goals and objectives. The combination of MobileEvent and Join In establishes QuickMobile as the leading choice for real-time audience engagement."
When Audience Engagement is Mission Critical
Earlier this year, QuickMobile released a white paper with seven predictions for the mobile event app industry. The company predicted that in 2014, mobile event apps will need to work harder to earn the attention of attendees and other stakeholders.
From the white paper, "Simply having an app for an event will be insufficient… There are basic functional requirements that every app should have, and then there are elements of surprise and delight that help to drive adoption and usage." These elements include gamification, video and rich media and insight, or real-time polling and Q&As.
Customers using Lumi's Join In on QuickMobile's platform will get an interactive mobile tool designed for real-time collaboration at live events and can deploy to all mobile platforms. The joint solution ensures real-time response, scalability and reliability at major events of all types, particularly for enterprise organizations running meetings where audience engagement is mission-critical. In addition to better audience response, event organizers can easily share results of polls with audiences and access valuable analytics to gain deeper understanding of meeting audiences. Join-In is an optional upgrade to QuickMobile's standard polling component, and is targeted at the enterprise customer.
QuickMobile MobileEvent is an intuitive and comprehensive mobile event app platform that helps event organizers create more engaging meeting experiences for all stakeholders - attendees, meeting organizers and owners, and presenters. The platform includes more than 40 features that customers can select from to configure their mobile app experience, including gamification, social media, analytics, and now Join In from Lumi. Driving the app is QuickMobile's content management system that puts the customer in control of every aspect of the mobile solution.
About QuickMobile
QuickMobile is transforming meetings and events with mobile apps that engage and delight audiences. QuickMobile's mobile engagement platform creates an always-on communication channel that allows event owners to increase attendee participation, build loyalty and generate revenue through richer experiences. By fully leveraging the capabilities of QuickMobile's mobile and social solutions, customers can extend events into yearlong conversations and build lasting relationships with their audiences. QuickMobile's head office is located in Vancouver, Canada. For more information, visit http://www.quickmobile.com. Follow QuickMobile on Twitter @quickmobile.
###