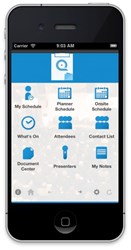 Event planning is complicated, time consuming and challenging, especially for planners who juggle multiple events with various internal and external event teams.
Vancouver, BC (PRWEB) October 15, 2013
QuickMobile, the global leader in mobile event apps, today introduced MobilePlanner, the industry's first event planning app for enterprise meeting organizers. MobilePlanner, available now, frees event organizers from the constraints of three-ring binders and spreadsheets, replacing traditional planning tools with a comprehensive mobile solution for smartphones and tablets. Meeting planners who organize multiple events at a time can use MobilePlanner to gain greater control and visibility into pre-event planning activities by taking advantage of real-time communication and managing schedules, notes and documents for vendors, exhibitors, attendees, speakers and sponsors.
"Event planning is complicated, time consuming and challenging, especially for planners who juggle multiple events with various internal and external event teams," stated Patrick Payne, co-Founder and CEO of QuickMobile. "Most people on the outside underestimate the effort that goes into organizing the many facets of an event. The traditional event planning process is largely manual, and is fraught with communication and execution risk. Our MobilePlanner solution liberates event organizers from most of the labor-intensive tasks and brings all the collaborative and organizational advantages of advanced mobile technology into the planning process, making teams more organized, more productive, and ultimately more successful."
Payne added, "One of our customers, a Fortune 50 retailer with a team of more than 100 event staff, uses MobilePlanner to organize dozens of meetings a year. The solution has greatly improved team productivity through simplified sharing of schedules and key documents such as contracts, floor plans, banquet event orders, travel itineraries, and contact information. The in-app messaging and notes improve communication and event execution by keeping everyone connected. They really value the peace of mind they get from knowing everyone is on the same page, in touch and accessible from wherever they are; all from a single app that's easier to use and more environmentally friendly than traditional methods."
Feature-Rich Mobile Solution for the Enterprise Event Planner
The fully branded MobilePlanner includes several features to provide enterprise event organizers with more control, agility and flexibility. The compact, mobile app contains everything needed to securely manage thousands of events and collaborate across large teams inside and outside the organization.
Key features of MobilePlanner include:

Multiple Schedules – Create one or multiple schedule for one or more event teams; customize personal schedules based on roles and tasks; Password protect confidential itineraries
Document Center – Upload, share and update vital event documents such as venue maps, menus, room layout, floor plans, vendor contracts, event schedules, presenter materials, etc.; Password protect and control access to documents for security and privacy; Easily share documents by email with external stakeholders
Enhanced Team Collaboration – Create and share notes with team members and track history of notes; Send in-app messages to internal and external team members; Use push notifications for quick updates to all users
What's On – Quick view of all activities in progress and starting in the next two hours across all event schedules; simplify and track assignments and responsibilities
Check-In – See which participants and attendees are on-site, and track relevant details, including flights, transportation, accommodations and dietary needs.
Fully branded – Provides flexibility and scalability for enterprises to stylize the app's look and feel to their own brands
Powered by the QuickMobile Platform
MobilePlanner runs on the QuickMobile Platform, the same technology powering QuickMobile's industry-leading MobileEvent event app solution. Customers already using MobileEvent for their attendee apps will not have to learn a new system when using MobilePlanner for event planning.
About QuickMobile
QuickMobile is transforming meetings and events with mobile apps that engage and delight audiences. QuickMobile's event app platform creates an always-on communication channel that allows event owners to increase attendee participation, build loyalty and generate revenue through richer experiences. By fully leveraging the capabilities of QuickMobile's mobile and social solutions, customers can extend events into yearlong conversations and build lasting relationships with their audiences. QuickMobile's head office is located in Vancouver, Canada. For more information, visit http://www.quickmobile.com. Follow QuickMobile on Twitter @quickmobile.