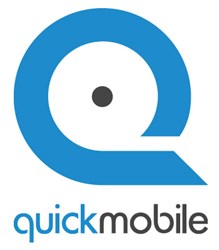 To be recognized by PCMA for our innovative contributions to the meetings and hospitality industry is a tremendous honor for our company.
(PRWEB) November 06, 2013
QuickMobile, the global leader in enterprise event apps, today announced that it has been awarded the prestigious Innovation Award from PCMA, the leading organization for meeting and event professionals. The Innovation Award recognizes strategic, results-focused innovative ideas by an individual or organization in the meetings and hospitality industry. Since 2006, QuickMobile has consistently been first to market with mobile solutions that have transformed meetings and events. The company has developed a single platform that connects all individuals and organizations involved with an event while allowing show organizers to adjust and improve the event on demand with real-time analytics. The award will be presented at PCMA's 2014 Convening Leaders event in Boston January 12-15, 2014.
"To be recognized by PCMA for our innovative contributions to the meetings and hospitality industry is a tremendous honor for our company," stated Patrick Payne, CEO of QuickMobile. "During the last seven years, our entire focus has been on providing the industry with tools and services that will make their events more successful. We have received an amazing response from meeting organizers, attendees and meeting owners, and expect demand for mobile event apps and planning and engagement tools, such as our new MobilePlanner and MobileVenue solutions, will continue to grow exponentially. When we first started, we only created single custom apps for one event. Now, we also offer a multi-event platform that allows companies to create thousands of apps annually, stay connected, and keep the conversation going 365 days a year. We truly appreciate PCMA's recognition of our innovation's impact on the industry. QuickMobile has come a long way and we thank our customers and supporters for helping us get to where we are today."
Cookie Walner, CMP, CMM, CAE, CEM, PCMA's Achievement Awards Committee Chair, commented, "It is exciting to see the innovation and fun that QuickMobile's apps can bring to a conference. The financial savings are significant, eliminating the need for printing and the reduction in paper and distribution costs. And this innovation collects significant data and measurable insights for an organization. Congratulations, QuickMobile."
About QuickMobile
QuickMobile is transforming meetings and events with mobile apps that engage and delight audiences. QuickMobile's event app platform creates an always-on communication channel that allows event owners to increase attendee participation, build loyalty and generate revenue through richer experiences. By fully leveraging the capabilities of QuickMobile's mobile and social solutions, customers can extend events into yearlong conversations and build lasting relationships with their audiences. QuickMobile's head office is located in Vancouver, Canada. For more information, visit http://www.quickmobile.com. Follow QuickMobile on Twitter @quickmobile.
###