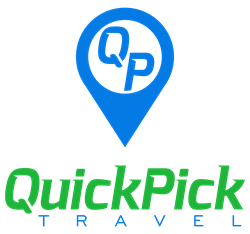 "There's finally a human behind the search."
Lambertville, MI (PRWEB) February 23, 2015
With Expedia's recent acquisition of both Travelocity and Orbitz, the industry appears to have only two players left in the online travel agency game: Expedia and Priceline. Between the two of them, they own every other heavy hitter in the OTA industry.
In a recent article on FoxNews.com, Jason Clampet, head of content at the travel intelligence company Skift is quoted as saying "I don't think this means much for the consumer at all. It's been a two-horse race for a while now."
This is exactly the issue QuickPick Travel, a firm based in Lambertville, MI, set out to address.
"Consumers needed more than metadata search results that often are the same regardless of the site being used," TC Clements, President and CEO of QuickPick Travel explains. "They need a way to book their travel online, the way they are accustomed to, but with the flexibility to insert their personal likes, dislikes, tastes, and needs into the mix. And they should be able to do it on a single site." He goes on to pose the question, "How can a vacation be for you when 'you' are not factored into the equation?"
QuickPick Travel changes the way consumers book travel online through a proprietary software system that allows a user to control the output through a series of simple questions. Expert travel specialists use this information to craft and return a completely customized travel itinerary to the consumer with no obligation or cost to them. In addition, these travel specialists are not permitted to contact the consumer beyond settling the initial request. For the consumer this means no spam and safeguarded information.
"QuickPick Travel introduces users to agents that know the tricks, know the inside information, and know how to match the traveler to the vacation without the consumer ever having to leave home. Agents also monitor costs, airline tickets, cruise pricing, and various travel specials on behalf of the traveler ultimately saving the consumer hundreds, even thousands of dollars," Clements states.
Jason Clampet predicted that "we're likely going to see another player come in from the side" before the dust settles.
QuickPick Travel's entry onto the field may confirm this prediction.
"The biggest hurdle for us is in educating the consumer to this new option," Clements states, "and making them comfortable with a shift in the way they are able to book travel online."
The company, founded in 2014, has hundreds of agents across the U.S. and continues to grow as consumer demand increases.
"There is finally a human behind the search engine, and QuickPick Travelers can work directly with one to get the vacation of their dreams!"
Clements encourages people to visit their website at http://www.quickpicktravel.com to learn more and to follow QuickPick Travel on Facebook, Twitter, Pinterest, LinkedIn, Google+, and Instagram.
If you'd like more information on this topic or to schedule an interview with TC Clements, President and CEO of QuickPick Travel, please call 734.224.4314 ext. 105 or connect by email: tclements(at)quickpicktravel(dot)com
Director of Marketing, Pamela Terhune can be reached at 734.224.4314 ext. 107 or through email at pterhune(at)quickpicktravel(dot)com