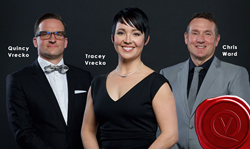 "There are so many questions that buyers have that their agent might not know…where is the septic field, how old is the roof, who are the neighbors? By attending the showings, we can answer those questions on the spot."
Kelowna, BC (PRWEB) March 03, 2016
The old ways of selling real estate just aren't good enough. Forget about self-serve showings. Forget about limited feedback after showings. And wave goodbye to the traditional real estate agent. Cue, the Kelowna real estate team that is reinventing the game when it comes to buying and selling homes in the Okanagan. With the launch of its new QVA Homes division, the professional sales agents at Quincy Vrecko & Associates are showing their commitment to customers by adapting to real estate trends.
After listening to client feedback, the highly trained associates at QVA Homes have unveiled a new campaign that will change the way real estate is done forever. Aptly called 'The QVA Difference,' it focuses on eight specific client-focused initiatives to streamline the buying and selling process. The ultimate goal is to help clients fulfill their real estate objectives in an enjoyable, rewarding manner.
QVA Homes specializes in properties under $1M, while QVA Collection remains the team's award-winning luxury division, specializing in properties over $1M. Central to the new QVA Homes brand is their commitment to bringing a level of customer service formerly reserved for the luxury market.
For example, attending all showings is a big deal. Normally, showings that other Realtors® set up are basically self-serve with a lock box. Quincy Vrecko, owner and luxury real estate specialist, has been doing full-service showings for the past four years with his high-end listings. The firm is now extending this service to all properties, regardless of price point.
"And so far, we are seeing the same to be true with all of our other listings." says Tracey Vrecko, a Kelowna Realtor® with the firm. "And so far with the other listings, we're noticing the same thing."
Tracey notes their Kelowna real estate company is the only one in the Okanagan to offer full-service showings. By having the listing Realtor® onsite, she adds they are able to address potential homebuyers' concerns and overcome possible objections on the spot.
"There are so many questions that buyers have that their agent might not know…where is the septic field, how old is the roof, who are the neighbors? By attending the showings, we can answer those questions on the spot."
Another point of the QVA Difference campaign is client feedback. By attending all showings, the Kelowna Realtors® at Quincy Vrecko & Associates are able to relay firsthand information directly to sellers. Were the buyers keen or lukewarm? What did they like about the house? What would they change?
"One of the biggest complaints in our industry is that sellers don't get feedback," says Tracey. "We're able to give instant feedback right when we're locking up the door after a showing."
Quincy Vrecko & Associates is also upping the ante in terms of digital marketing. The Kelowna real estate listings on their newly revised website are showcased using high-resolution photography and high-definition video tours with voiceovers. And instead of focusing on advertising in print media, they are promoting their listings using search-optimized property pages on the Internet, and through various social media channels, to reach a wider market.
"We want to be different," says Tracey. "In the new age of technology, buyers and sellers can do so much research on their own and we want to help in any way we can."
To further personalize their communications, calls to the Quincy Vrecko & Associates office are directly routed to a professional sales agent, instead of a receptionist. This puts clients in direct contact with a highly trained sales agent who can answer their questions while also reducing the chance of missed calls or delayed callbacks.
To summarize, Quincy Vrecko & Associates are more than just real estate agents. They are professional sales agent – embracing their new title of a QVA Agent with open arms. It takes years of industry experience, dedication, professionalism and training to become a QVA agent. They don't just cross their fingers and wait for the phone to ring, QVA Agents are motivated and proactive. The team of licensed sales agents focus on the goal of selling your home, providing the knowledge and support required to successfully buy and sell Kelowna real estate.
About Quincy Vrecko & Associates
Quincy Vrecko & Associates is a RE/MAX team of Kelowna Realtors® that includes Chris Ward, a Kelowna real estate agent for 24 years; Tracey Vrecko, a top-performing real estate agent; and Quincy Vrecko, a Realtor® who specializes in Kelowna luxury homes. Together, they offer custom marketing plans that exceed clients' expectations. They're based in Kelowna, but have listings throughout Central Okanagan, including Lake Country, Big White, Naramata, West Kelowna and Peachland.
For more information, contact:
Tracey Vrecko
Kelowna Realtor®
Quincy Vrecko & Associates
250-575-6448
Tracey[at]QuincyVrecko[dot]com
http://www.quincyvrecko.com