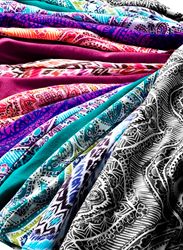 Whether you accessorize with a beach bag or an evening bag, it's really as its name suggests: Quinn-tessential
Carlsbad, CA (PRWEB) July 01, 2014
The Quinn dress is equal parts fun and flirty while also remaining sustainable and versatile. This dress is one of prAna's heritage pieces and features new prints this summer season.
"With ten, fun new colors and patterns, Quinn is a great pick as a summer go-to piece," says prAna's VP of Design and Merchandising Ellen Krimmel. "We love how easily it goes to the beach over your suit and then stylishly transforms you for a summer evening out. Whether you accessorize with a beach bag or an evening bag, it's really as its name suggests: Quinn-tessential."
Made from performance knit fabric Veeda, the Quinn is soft, lightweight and comfortable. It comes in two lengths — regular and short — and it includes 10% spandex, so it smoothly fits curves and moves with its wearer. Veeda also dries quickly, adding to Quinn's versatility. A scoop neck and unique double racer back add stylish detail to this travel-friendly dress.
"The effortless, good looks of this dress combined with the cool, comfort of its blended recycled fabric are outdone only by the mindful intentions we started with," said Krimmel. "With Quinn, you're getting a timeless flattering cut that measures up to some of our highest standards for sustainable clothing."
Quinn is made with 45% recycled materials, helping to minimize harmful greenhouse gas emissions. It is also bluesign® certified, so it passes a stringent set of standards covering everything from resource productivity, consumer safety, water emissions, air emissions, and occupational health and safety.
To check out the Quinn dress in all the new prints and colors, please visit prAna.com.
About prAna
PrAna is a lifestyle brand that draws its name from the ancient Sanskrit word for breath, life and vitality of the spirit. Born from climbing and yoga, the prAna team creates mindfully-designed, purposeful and stylish apparel for free-spirited people to pursue their passions on the water, mat, rock, trail, and street. From its beginning in 1993, prAna has been committed to weaving sustainable practices into its operations and supply chain, working to reduce its impact on soils, water supplies and other natural resources while promoting conservation. PrAna is also conscious of its impact on communities and has worked to include a growing number of fair trade styles every year. It is the first apparel company in North America to offer Fair Trade USA certified products and accessories. PrAna is sold in five flagship stores, online at prana.com, and in 1,400 specialty retailers across the US, Canada, Europe and Asia.
For a list of prAna retailers, please visit http://www.prana.com/dealer-locator.html.
Find @prAna on Facebook, Twitter and Instagram.