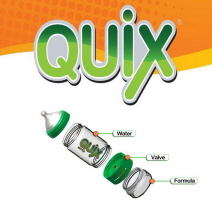 We are very grateful for everyone's support and contributions to get Quix on the shelf!
Palm Bay, FL (PRWEB) March 11, 2014
Florida-based Quix Products is a patented innovation ensuring that on-the-go parents can quickly and safely mix fresh baby formula for hungry infants while traveling, visiting, shopping, or just relaxing at home — making life easier for babies and parents alike.
Founder Travis Peres, who has personally invested $60,000 in the startup, said, "Our patented twist-and-shake valve technology enables parents to keep formula separate from water until ready to use. Developed by parents for parents, our Quix Bottle technology solves the problem of speed required to satisfy a hungry baby, while also ensuring that infant formula remains fresh and safe for baby, thereby reducing post-consumer waste."
As parents who have felt the pain of listening to hungry babies cry, Travis Peres, and his wife Theresa, envision a happier world where babies get their nutritional needs met quickly and mothers feel less hurried. So, for every bottle sold, Quix will give a portion of the proceeds to benefit Vitamin Angels – an organization dedicated to helping at risk children under five and pregnant women obtain the micronutrients that are essential to a child's survival and ability to thrive. "While helping meet Quix business goals, Indiegogo supporters can make feeding time easier and safer for families everywhere. We are very grateful for their contributions," Peres added.
"Partnering with Eastman Chemical provided the added value of technical expertise, material knowledge and marketing know-how," Peres said. "Having access to that expertise is very valuable for a startup company like ours."
Innovative project engineering already has earned Quix Bottle multiple awards: Florida Trend Magazine Person to Watch; INPEX Gold Merit Award; CIA Developers Entrepreneur Award; and Perfect Business Summit's Top 50 Business Award. To support this project, please visit: Quix Indiegogo . For questions or a copy of the Quix Bottle Investor Prospectus, please contact Travis Peres at tperes(at)quixbottle(dot)com or call 888.378.QUIX (7849), ext. 700. http://www.QuixBottle.com