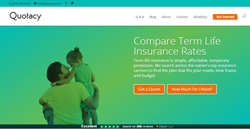 I feel fortunate to be able to bring our entrepreneurial spirit into this evolving industry.
Minneapolis, MN (PRWEB) September 23, 2016
Quotacy, an innovative online term life insurance agency, announced today that its founder and CEO, Jeremy Hallett, will be speaking at InsureTech Connect, an upcoming conference that promises unparalleled access to the largest and most comprehensive gathering of tech entrepreneurs, investors, builders, and forward thinking carriers.
"Life insurance is advancing at a rapid pace and I just feel so fortunate to be able to bring our entrepreneurial spirit into this evolving industry," said Hallett.
Hallett has invited a panel of industry experts to join him for a compelling session focused on predictive modeling in the insurance industry. The panel will focus on the increasing speed at which a client's insurability can be assessed, thanks to new technology and processes being developed every day.
Collectively, they will discuss topics such as:

How predictive modeling using non-medical information, focusing on lifestyle and behavior, can estimate mortality risk to drive faster turnaround times at lower costs.
How new innovations in underwriting are working within life insurance carriers to simplify the process and draw in new customers.
Joining Hallett for his panel are four other cutting edge leaders in the life insurance industry: Elliott Wallace, VP and General Manager of the Life Insurance Vertical at LexisNexis; Sean Conrad, VP and Actuary at Hannover Re; Troy Thompson, SVP and Chief Actuary at Legal and General America, and Jamie Hale, Co-Founder and CEO of Ladder.
About the Conference:
InsureTech Connect 2016
Las Vegas Convention Center
October 5-6, 2016
About Quotacy:
Quotacy is a life insurance agency that believes in putting the user first; making quoting faster, terminology easier, and the application process smoother for those who like to shop online.