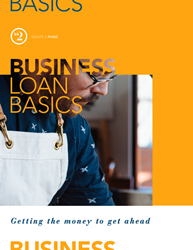 "For too many business owners today, the process of finding — and ultimately, getting — the right business loan "is like having a second job!" - Jules Dalsey
SAN DIEGO, CALIFORNIA (PRWEB) July 05, 2016
Quote 2 Fund, the small business lending platform and marketplace, is determined in its efforts to help potential small business loan borrowers navigate the financing process.
"For too many business owners today, the process of finding — and ultimately, getting — the right business loan "is like having a second job!" That's what we heard, time after time, when they finally turned to us here at Quote 2 Fund. And it's no wonder, what with all the options out there – not just different kinds of loans, but also different kinds of lenders," says Quote 2 Fund founder Jules Dalsey.
"What we heard in what those busy business owners said was a wish for a guide that would put – all in one place – everything what they needed to know to make an informed loan decision. That way, once they realized they needed funds, they wouldn't have to waste time sifting through tons of info from all sorts of sources – websites, brochures, appointments with lenders, or conversations with colleagues who just got turned down," concludes Dalsey.
"We understood that if such a resource were to be truly helpful, it would have to be: objective, clear and concise," says the company's Communications Officer Hezekiah Herrera. "So we decided to create the fundamental guide they were looking for. Five guides, actually, in a new eBook series we're calling Business Loan Basics."
The introductory eBook – Getting the Money to Get Ahead— provides a succinct synopsis of what's out there and what a borrower needs to know and do in order to get the funds. And as a document that lays the groundwork for a successful loan application, Getting the Money to Get Ahead is recommended reading for any business-loan seeker who's ever said with a sigh, "Where do I even begin?"
Subsequent eBooks in the series, four in all, go into detail – rates, terms, requirements, funding sources, and more — about the kinds of loans businesses need most often:
Term Loans
Lines of Credit
Equipment Loans
Commercial Real Estate Loans
A case is never made for any lender in particular. The intent of each and every one of these guides is to outline the available options and make the path to application and approval less confusing.