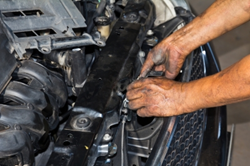 It is now a possible to receive a price quote through the finder system for thousands of different components meant for installation into foreign or American automobiles
Green Bay, WI (PRWEB) May 26, 2014
The distribution blockades that exist in the automotive components industry can include retailer holdbacks on prices. The autoprosusa.com company is now allowing public access to quotes for auto parts online to better service American parts buyers.
The developments now processed in the automotive catalog of parts for sale on the Auto Pros website has opened up the resources now available to any consumer. A generated quote in price while using the national tool includes the sale price, warranty and shipping prices in most cases.
"It is now a possible to receive a price quote through the finder system for thousands of different components meant for installation into foreign or American automobiles," said customer service agent at the Auto Pros USA company.
The programmed car parts quotations that are offered to consumers ready to process a purchase online is one recent change in customer relations this year. The revised length of components coverage for most of the inventory for sale is an additional development for customers.
"Buying any auto parts without a warranty can be a risk that some consumers take although our warranties are figured into the sticker prices delivered in each quote," the customer service agent added.
The Auto Pros USA company has modified access to its homepage and is now presenting hundreds of accessible content pages that provide more than simple parts descriptions. Pages with complete descriptions about components quality and other data are accessible from links on the first page of the website.
About AutoProsUSA.com
The AutoProsUSA.com company supplies a direct price review method for the American public when searching for automobile parts on the Internet. The sophisticated platform that has been selected for monitoring parts sales is one way that prices are kept lower at the point of sale. The AutoProsUSA.com company uses the power of its distribution associates to strengthen the inventory numbers that car parts buyers find while using the portal for research on the homepage. The company offline associates provide information by phone concerning prices, shipments and warranties.