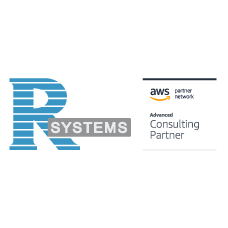 Off the 40,000+ partners in the APN network, less than 10% have been able to achieve the Advanced Partner status.
EL DORADO HILLS, Calif. (PRWEB) December 06, 2019
In order to qualify under APN's Advanced Tier, partners must undergo a thorough assessment process that includes proof of experience, security, client/project success, technical proficiency, etc. to demonstrate a partner's scale of AWS expertise, capabilities and engagements in the AWS Ecosystem.
"Recent advancements in Data, AI/Analytics, Machine Learning & Automation use cases in the marketplace, is leading to newer business models" said Avirag Jain, EVP & CTO at R Systems. "The vast range of AWS offerings, combined with R Systems expertise in these areas, can now better help clients solve real business problems, thus adding immense business value!"
Bali Singh, AWS Partnership Leader at R Systems, further added, "This achievement reflects R Systems' commitment to helping our clients during every stage of their digital & cloud journeys. Through us, our clients will now have access to a comprehensive portfolio of AWS offerings, that will enable us to implement advanced AWS features in a shorter timeframe!"
For more information: