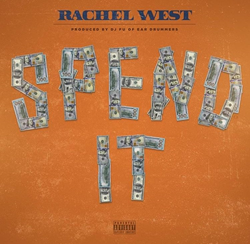 Los Angeles, CA (PRWEB) April 03, 2017
Rachel West, also known as Lady Ether, is a multi-talented emcee and native of St. Louis, Missouri. Her new single "Spend It" was produced by DJ Fu of the famed Eardrummers, and released nationwide March 23, 2017. The single is available for purchase on Spotify and iTunes.
Rachel West, a street savvy female emcee, got her start in the music business as an intern in the promotions department at 100.3 The Beat; a Clear Channel radio station in Missouri. Battle rapping and freestyling was therapeutic for West, as it was a way for her to deal with frustration and anger over the death of her brother.
West continues to shock Hip Hop fans everywhere with her unique rap and singing style, which captivates listeners and power players in the industry. Her complex flow combined with her sultry voice is what gravitates fans to her, and gives her the edge over her male competitors.
West is no stranger to the spotlight as she has worked with a lot of talented producers such as H Snow, Centillion and Booga. West recently attended the Grammys with her mentor Malik Yusef. She also performed "Spend It" at SXSW alongside her mentor, which received great reviews. According to Yusef, she has "the ability to be the next big thing in music."
West showcased her hardcore rapping skills in Hip Hop songs like "Live La Vida Loca" to Pop songs like "Drop Top Sports Cars." She was once part of a girl group with her sister, Ashley West, and her single "Booty Pop" was featured in the film 'My Trip Back To The Dark Side' (http://www.imdb.com/title/tt1810710/). West has also showcased her talents by performing as the opening act for Waka Flocka with DJ Whoo Kid and DJ Magic.