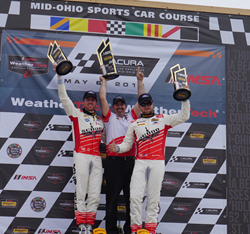 LEXINGTON, Ohio (PRWEB) May 03, 2019
Last year at the Mid-Ohio SportsCar Course, Kyle Marcelli won the IMSA Continental Tire SportsCar Challenge in what he describes as a "never give up" race. This year, he's again behind the wheel of KohR Motorsports' No. 60 Ford Mustang GT4 and hoping to repeat their exciting win.
As he gears up for Mid-Ohio, Marcelli emphasizes that any potential success will be thanks to the hard work of his team, KohR Motorsports, which includes co-driver Nate Stacy and team owner Dean Martin. He says, "There's one person behind the wheel, but these races are often won or lost in the pit, so we had to spend quite a bit of time fine-tuning our procedures to make sure we minimize any mistakes."
However, Marcelli's team doesn't include just his pit crew. He's also driving to eradicate autoimmune diseases. For years, Marcelli has generously used his success in motorsports to increase awareness about the need for autoimmune disease research, treatments and cures. Marcelli is an ambassador for Race for RP – an awareness campaign associated with the Relapsing Polychondritis Awareness and Support Foundation (RPASF) – and the American Autoimmune Related Diseases Association (AARDA), which will honor Marcelli with its Champion Award on May 11 at its Bound by a Common Thread event at the Detroit Athletic Club.
In 2018, Marcelli paired with another driver, Dominik Baumann, and won the IMSA WeatherTech Sports Car Championship at Mid-Ohio, in a historic win for Lexus with the car's livery including logos of AARDA, Race for RP, and the Allegheny Health Network Autoimmunity Institute.
For Marcelli, the decision to support these organizations was a personal one. Kyle has friends and family that suffer from autoimmune diseases, and once he learned about their experiences, he began to see more of the 50 million Americans in the same circumstances. He describes the progression with an appropriate metaphor. "You drive a red car, and next thing you know you start spotting red cars all over the place," he says. "You learn about a disease, and before you know it, you start realizing how many people it affects."
AARDA, whose funding comes primarily from public donations, grants, and bequests, is the only national organization dedicated to addressing the problem of autoimmune disease.
Of the 100 or so autoimmune diseases, RPASF and Race for RP, focus on one: relapsing polychondritis ("RP"), which causes the body to attack its own cartilage.
The IMSA Michelin Pilot Challenge will stream live on http://www.IMSA.TV and the IMSA app on Saturday, May 4, 2019 from 1:35 pm to 3:45 pm EDT. It will also air on NBC Sports Network (NBC SN) on May 11, 2019 beginning at 11:00 pm EDT.
About Kyle Marcelli
Canadian Kyle Marcelli is an established professional racing driver and one of North America's top rising stars in professional sports car racing. After a successful career in go-karts and single-seaters, Kyle made his professional debut at the pinnacle of sports car racing, the American Le Mans Series (ALMS) in 2010. Kyle's auto racing accomplishments include; FF1600 champion, FF2000 3rd, Porsche GT3 Cup champion, American Le Mans Series vice-champion, European Le Mans Series winner, Petit Le Mans 10H winner, Sebring 12H 2nd, Pirelli World Challenge winner, Trans Am Series winner, Thunderhill 25H winner, IMSA Continental Tire SportsCar Challenge Vice-Champion and IMSA WeatherTech SportsCar Championship winner. Kyle represents his passion, sport, sponsors, team and fans proudly and effectively. He's winning, engaging and always visible. For more information, visit http://www.kylemarcelli.com.
About Race for RP
Race for RP supports research, awareness programs, and cares for those who are affected by relapsing polychondritis ("RP") and related diseases. RP is a rare, debilitating, and in some cases fatal disease that attacks the patient's cartilage, including in the ears, nose, joints, and upper and lower airways. For more information, visit http://www.raceforrp.org.
About RPASF
RPASF's purpose is to increase awareness about relapsing polychondritis, provide for those who are affected by RP, support research to advance a cure, and promote quality care for relapsing polychondritis patients. For more information, visit http://www.polychondritis.org.
About AARDA
The American Autoimmune Related Diseases Association (AARDA) is dedicated to the eradication of autoimmune diseases and the alleviation of suffering and the socioeconomic impact of autoimmunity through fostering and facilitating collaboration in the areas of education, public awareness, research, and patient services in an effective, ethical and efficient manner.
AARDA is the only national nonprofit health agency dedicated to bringing a national focus to autoimmunity, the major cause of serious chronic diseases. Approximately 50 million Americans, 20 percent of the population or one in five people, suffer from autoimmune diseases. Women are more likely than men to be affected; some estimates say that 75 percent of those affected -- some 37.5 million people--are women. For more information, visit http://www.aarda.org.