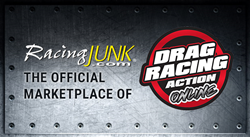 RacingJunk is excited to have saddled up with Drag Racing Action Online.
NORTH ADAMS, Mass. (PRWEB) January 19, 2023
RacingJunk.com, the flagship website of Internet Brands Automotive, is excited to announce its partnership with Drag Racing Action Online. The two properties have joined forces for a multi-year media share collaboration where RacingJunk will serve as The Official Marketplace of Drag Racing Action Online.
For over 20 years years, RacingJunk.com has been the go to place for performance enthusiasts to find new & used vehicles and parts from race cars to hot rods, engines, power sports & off-road vehicles, trailers & more. In addition to hosting classifieds, RJ partners with tracks, series sponsors, racers, manufacturers & experts to support all levels of the community from grassroots to professionals, connecting users with the best products, services & experiences in the industry.
Drag Racing Action Online is an internet magazine founded by the late John DiBartolomeo and Phil Hutchison. We bring the latest news about drag racing to our readers through event highlights, racer spotlights, tech articles and editorials.
"It feels like a natural extension of a magazine to have a classified section, stated publisher Franklin DiBartolomeo, which is why we are very excited to partner with Internet Brands Automotive Group & RacingJunk to expand our outreach and be able to point our readers in the right direction when they are looking to buy or sell any equipment. At some point, every drag racer is looking to buy or sell some piece of their operation, so it makes sense for us to partner with the number 1 racing and performance marketplace on the internet."
Mark Menadier, Business Development Manager at Racing Junk shares similar sentiments about the relationship, "RacingJunk is excited to have saddled up with Drag Racing Action Online. The addition of Franklin DiBartolomeo & his team adds an inside source of content RacingJunk members can enjoy & share."
For more information about Drag Racing Action Online check out their website: https://dragracingactiononline.com/
Internet Brands Automotive Group is a collection of Auto Classifieds websites including RacingJunk.com, HotRodHotline.com, OldRide.com and CollectorCarNation.com. The vertical focuses on auto racing and performance, hot rods, classic and collectible vehicles & parts, as well as trailers and RVs.