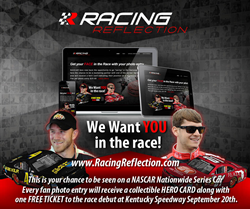 Get your FACE in the RACE with your photo entry.
Charlotte, NC (PRWEB) August 26, 2014
Nationwide Series race cars flash by grandstands at speeds of 200 miles per hour, their hoods, quarter-panels and rear deck carrying advertising slogans and symbols for some of the biggest companies and most popular products in the United States.
Now you, too, can be along for that ride.
A brand new website, RacingReflection.com, is offering fans a chance to have their photos placed in a brilliant photo mosaic on the Nationwide race cars of JD Motorsports with Gary Keller drivers Jeffrey Earnhardt and Landon Cassill. For only $25, fans can submit a photograph that will be woven into a pattern of photos on the race cars. Those who participate also will receive a collectible "hero" card featuring the team drivers and cars along with one free ticket to the race debut at the Kentucky Speedway Sept. 20th.
Fans will become marketing partners with the team for whichever race (or races) they choose. The team Chevrolets will carry fan photos on a wild ride across the landscape of NASCAR racing.
For more information, check out RacingReflection.com.
RacingReflection.com is dedicated to providing NASCAR enthusiast with an exciting entertainment experience.