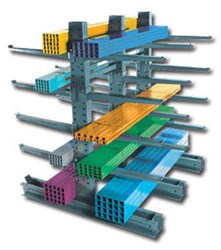 Cantilever racks are items under looked by many customers. This is why the company is choosing the Jarke heavy duty cantilever racks as product of the day. Hopefully, this encourages customers to check out this and other cantilever racks
Boston, Massachusetts (PRWEB) September 19, 2013
Everyday including weekends, A Plus Warehouse enjoys recognizing a product that stands out from the rest. The company calls this the product of the day. The product of the day is normally an item that peaks customer interest. The item normally has some special features. A Plus Warehouse tries to evenly distribute the product of the day between the different sections of the A Plus Warehouse website. With such a large selection of items to choose from, it is hard for the company to pinpoint one particular item. It is the goal of product of the day to give customers a taste of everything A Plus Warehouse has to offer. Today's product of the day: the Jarke heavy duty cantilever racks. According to Ed Stairman, president of A Plus Warehouse, "Cantilever racks are items under looked by many customers. This is why the company is choosing the Jarke heavy duty cantilever racks as product of the day. Hopefully, this encourages customers to check out this and other cantilever racks."
What is a Jarke product a customer may ask. Jarke is a very big and well-known line brought to customers by Storage Products Group; also know as SPG. SPG is among A Plus Warehouse's best manufacturers. The company manufactures a wide range of products including racks, ladders, sinks, cabinets, shelving, and many other items. As mentioned earlier, Jarke is one of the lines at SPG. This line specializes in material handling equipment. This is why A Plus Warehouse mostly offers Jarke items. A Plus Warehouse is proud to be a distributor of SPG products.
For customers that are unfamiliar with cantilever racks, they are racks used to organize a warehouse, lumber yard , or manufacturing facility. The rack separates products by commodity and size. When ordering a cantilever rack, customers have a choice between assembled and unassembled.
It is now time to discuss Jarke heavy duty cantilever racks. These industrial racks are an efficient way to organize and store long and flat materials. The image to the right displays a Jarke heavy duty cantilever rack in action. This item also features a tapered column design. Customers will not be disappointed with Jarke racks. Customers should order theirs today.
A Plus Warehouse is the operator of http://www.apluswhs.com and distributes materials handling and storage equipment nationwide and throughout Canada. The sales staff at A Plus Warehouse is available at 800-209-8798. A Plus Warehouse has been in constant operation since 1996.