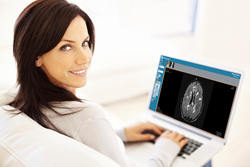 We want to empower MS patients to store and access their own health information to better manage their disease and symptoms. - Christine Granfield, Founder and CEO of HealthCare Journey
Poway, CA (PRWEB) October 13, 2014
StatRad, a national technology leader in the field of radiology, and HealthCare Journey, an innovator of disruptive patient education, have teamed up to empower patients with Multiple Sclerosis (MS) to improve health outcomes by storing and controlling their own radiology exams, including brain MRIs, by using StatRad's medical image sharing platform, RadConnect.
Because patients with MS typically have many MRI scans during the course of their disease, it can be challenging to keep track of and maintain them when patients move, change jobs, healthcare plans, and/or physicians. "To get their old MRIs most MS patients have to personally go to the radiology center where it was done and have them copy it onto a CD, often for a charge. To make matters worse, the centers may not store films for more than a 7 to 10 year period. That is not long enough with an illness that lasts over 40 years in many individuals. Allowing patients to store and access their own MRI data will improve patient care," says doctor Revere Kinkel.
With RadConnect, patients with MS will now be able to easily share and store their radiology images and exams with all of their physicians. "We want to empower MS patients to store and access their own health information to better manage their disease and symptoms," says Christine Granfield, Founder and CEO of HealthCare Journey. To do this, HealthCare Journey has created the first Virtual MS Center and has partnered with StatRad to give patients control over their own health information rather than have their hospitals, HMOs, or medical offices control it. "The RadConnect platform will provide our members a highly secure, and HIPAA compliant solution to store and share their own MRIs with easy access, anytime from anywhere," says Granfield.
"This is a very exciting time to be involved in the emerging digital health movement. We are thrilled to work with HealthCare Journey to provide portability and instant access to medical images with the goal of improving the lives, and quality of care, for their members who are afflicted with Multiple Sclerosis," says Claude Hooton, President of StatRad.
RadConnect also enables hospitals and physicians to share and collaborate on exams, and gives both patients and doctors the ability to request second opinions from specialists when faced with difficult cases.
About StatRad
StatRad, established in 1996, is a national technology leader in the field of radiology. The company utilizes its unique technology platform to provide services and solutions to patients and physicians associated with over 150 hospitals across the U.S. In addition to image sharing and storage, the company partners with local radiology groups to provide teleradiology services to support their specific needs. StatRad, based in San Diego, California, and is privately held. To learn more about StatRad, please visit http://www.statrad.com. To learn more about RadConnect, visit http://www.radconnect.com.
About HealthCare Journey
HealthCare Journey, headquartered in Newton, MA specializes in creating innovative and disruptive patient education. Transforming the way people receive and utilize healthcare information, HealthCare Journey strives to empower people with the information they need to effectively manage their diseases and symptoms. For more information, please visit http://www.healthcarejourney.com or call 617-584-9850.
###