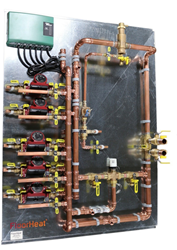 Flexible design to meet all needs. Saves time and money.
(PRWEB) November 16, 2016
In addition to industry-leading one-, two-, and three-zone distribution panels, FloorHeat is now offering custom-built panels with as many zones as unique installation requires. Panels can be configured to include multiple zones, domestic hot water, outdoor snow-melting applications, and geothermal or solar heat sources. Each panel will be specially engineered for the job's particular requirements and assembled with the same care and attention to detail as in-stock panels, saving many hours of planning and installation time.
Utilizing the highest-quality components (all backed by manufacturers' warranties), each panel is assembled on a sturdy galvanized steel backing and uses copper pipe with the latest crimped-joint technology for strong, leak-proof connections. Completed panels are carefully pressure tested and packed in sturdy containers to ensure safe delivery. Custom panels ship within 10 days after the order has been received.
FloorHeat was founded in 2003 and is located in Lansing, MI. Operating as both manufacturers and distributors of high-quality products for hydronic and electric floor heating systems. Hydronic products include floor tubing grids, bronze air eliminators, heat plates, thermal reflecting foil, zone valve switching relays, circulator pumps, and expansion tanks. Industry leading line of electric heating products includes underfloor mats and film in various sizes, and digital thermostats. For additional information, please visit . . . getfloorheat.com