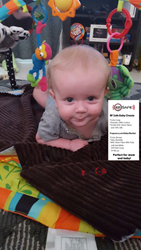 It's critical to take the neccessary steps to protect your child's developing brain.
Palo, Alto, CA (PRWEB) October 10, 2016
RF Safe's mission to raise awareness to parents on the effects of microwave radiation and children has inspired the new RF Safe Baby Onesie and Crib Canopy.
Doctors said early studies provide enough evidence to suggest that parents should take caution with cell phone radiation and children.
"Even though the cell phone manual contains specific instructions that say do not carry the phone next to the body, the US government does not publicize this information nor mandate companies inform the public, leaving most people unaware of potential hazards, unwittingly allowing their young children to play with them like toys." says Devra Davis MPH, Ph.D., president of the Environmental Health Trust pointing to the Berkeley Cell Phone Right To Know Ordinance.
Compared with adults, research on children shows that microwave radiation is absorbed twice as much into their brain, up to triple in their brain's hippocampus and hypothalamus and up to ten times as much into the bone marrow of skull.
"An average family has several devices contributing to the radiation environment surrounding their little one. Microwave exposure is emitted from wireless routers, from the devices themselves, even from wireless baby monitors many parents keep right next to their baby's head," says John Coates, founder of RF Safe, "It's critical to take the necessary steps to protect your child's developing brain."
The new, only-of-its-kind RF Safe Onesie is designed with a combination of silk and silver to provide comfortable microwave protection for infants and toddlers.
For maximum protection, RF Safe also suggests its new RF/EMF shielded crib canopy, a metal mesh material which fits right over the crib or any standard size Pack-N-Play. The canopy surrounds baby in a wireless radiation free fortress, providing protection from non-ionizing radiation which may have links to the onset of ADHD, Autism, and cancers.
Fits over the crib or any standard size Pack-N-Play's.
$1 from all pink RF Safe products will be donated help fund breast cancer research for National Breast Cancer Awareness Month.
Since 1998 RF (Radio Frequency) Safe has been dedicated to evolving the wireless industries safety standards, by engaging in the business of design, testing, manufacture, and sale of safety technologies to mitigate harmful effects of cell phone radiation.