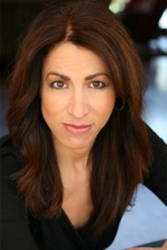 Each week, we will feature the top Atlanta business headlines...
Atlanta, GA (PRWEB) July 16, 2013
On Sunday, July 21, 2013, BusinessRadioX® welcomes to the studio the latest addition to its radio family, Week In Review, hosted by Dana Barrett. In partnership with biz1190AM-WAFS in Atlanta, Week In Review will air live each Sunday at 12pm EST.
Dana Barrett has been entertaining and informing audiences as a radio and online broadcaster and live event host since 1996. She started out as a traffic reporter in the Atlanta market, spent two years doing an Atlanta area morning show and then began focusing on author interviews both on-air and online.
Since 2005, Barrett has interviewed over 50 authors across all genres including New York Times fiction bestsellers such as Jodi Picoult, Brad Meltzer and Garth Stein. Non-fiction authors interviewed include New York Times bestsellers John Perkins and Van Jones as well as CBS News correspondent Byron Pitts and Pulitzer Prize winner Annette Gordon-Reed.
Barrett has served as a host and moderator for Atlanta area events such as The Decatur Book Festival, Roswell Reads and at The Atlanta History Center and Margaret Mitchell House. Barrett is known for her well-researched, in-depth interviews and conversational style. She is currently the Editor and Host for Midtown Review and host of ShowBiz Atlanta on BusinessRadioX®.
As a business commentator, Barrett brings a breadth of corporate and entrepreneurial experience, and a desire to inform and entertain in the BusinessRadioX® Week In Review hour. According to Barrett, "Each week, we will feature the top Atlanta business headlines and introduce you to the industry execs, thought leaders and innovators featured that week across the BusinessRadioX® Network."
Join us for this inaugural episode at 12pm Eastern on Sunday, July 21, at Week In Review.
About biz1190 Wall Street Business Network™ WAFS:
biz1190 Wall Street Business Network™ WAFS is Atlanta's only terrestrial business news station. From Wall Street to Peachtree, biz1190 takes you through the trading day 24/7. Featuring the best that Bloomberg Radio has to offer, we also boast Atlanta's own Joyce Bone, Alan Butler, Ray Lucia, George Jarkesy and Moe Ansari. Biz1190, Always Right on the Money.
About BusinessRadioX®:
BusinessRadioX® provides a turnkey solution for business owners who want to leverage the power of internet radio to meet their best prospects, establish credibility for their organization and heighten the placement of their brand in search engines rankings. With a professional venue and a proven formula, BusinessRadioX® helps hosts podcast their shows and create a regular stream of dynamic content to share with their prospects and feed the search engines every week. Programs are recorded and streamed live to the internet from our studios in the greater Atlanta area. For more information or to hear a live show, visit: http://www.businessradiox.com.