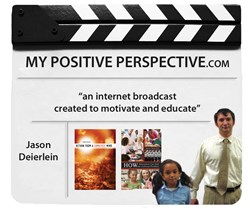 I am looking forward to interviewing Robert Hammond.
Charleston, SC (PRWEB) February 18, 2014
On February 19, 2014, My Positive Perspective radio will feature a special guest, Robert Hammond. Hammond has spent half of his life in and out of jails, rehabs, and prisons while battling drug addiction. However, he was able to use creative writing as a therapeutic tool to help transform his life from a heroin addict into a college professor and award-winning Hollywood screenwriter and producer.
My Positive Perspective radio host Jason Deierlein says, "I am really going to learn a lot from this interview, here we have a person who overcame difficulties in his life and wanted to help others who may be facing a similar situation." This was the goal for Deierlein writing his own life memoir called Return From a Comatose Mind.
Deierlein says, "We had to face adversity in life and are trying to educate others. The big difference is that Hammond has managed to get his story and turn it into a movie. That is certainly a goal for my story as well, so one question I will have for him is how was he able to take the step of turning his book into a movie." Deierlein also adds, "I don't plan on asking him much about his past. I am more interested in hearing about his writing style and his screen productions."
My Positive Perspective is a media outlet believing that improvement in our community will be best achieved by focusing on the good things happening in our world today. Having survived a near fatal car accident as a youth, a shift of perception forced one to have a mentality of always concentrating on the brighter sides of things. This was true, and in my book, Return From a Comatose Mind, this belief was put to the test. Appreciation for life was the biggest thing one took away from my brush with death, and it is because of that gives me such a huge desire to be helpful to many. My Positive Perspective is a way of overcoming challenges through positive thinking.