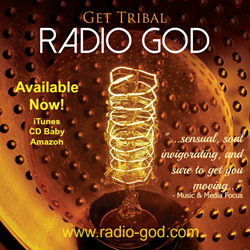 One of the best fusions of World / New Age / Cosmic music that I've heard over my many years of reviewing music...most highly recommended!
San Francisco, CA (PRWEB) October 07, 2015
What if all sound waves traveled into space and returned woven together in spiritually uplifting ways? What would the fusion of music without perspective of time, place or genre sound like?
These are questions for Radio God, as asked and answered by Get Tribal on their latest album. Inspired by Glam rock and embracing mythical archetypes, the group - led by Kari Hohne - has a unique Northern California perspective reflective of that region's vivid festival scene, a wild mix of music, mysticism, carnival, Steampunk and Bohemia. From techno to world beat, klezmer to kirtan, all the sounds of the last century seem to find their place in Radio God, releasing this week; the album is available for sampling and purchase online at iTunes, CDBaby, and Amazon.
Hohne, who is also a popular dream analyst, best-selling author, app developer and founder of CafeAuSoul.com, began playing flute at an early age, followed by guitar. However, she says, it was her later interest in the synthesizer and drums that enabled her to connect her love of archetypal dream analysis, shamanism, Taoism and music into the messages shared in God of Drum (their first album) and Radio God.
Nestled in the cabin near Lake Tahoe where she escapes to create, Hohne shares, "I write books about dreams and myths, so my compositions are based on Archetypes. In studying with shamans all over the world, I learned the healing and transcendental power of drumming, and I came to recognize that music can convey ancient truths to the listener. While in that zone, the drumming seems to push us beyond ego's limitations where the melodies allow Spirit to dance."
The music of Radio God has been described as a surreal revival of world spiritual music arranged with ethnic rhythms, modern beats and infused with media nostalgia. Radio call letters serve as titles for the 10 cross-culturally mixed songs, from the dramatic "RHUA" (inspired by the Hebrew chant Shema Yisrael) to the dreamy Hawaiian surf guitar sounds of "ADON." Performed on a multitude of different drums, this is transcendental percussion music wrapped in a diverse tapestry of inspirational sounds.
Keith "MuzikMan" Hannaleck of New Age Music Reviews gave the album a 5-star rating of "Excellent" writing, "What makes it all so special is that it takes the old and mixes it with the new in a distinct musical fashion. This kind of mix is what makes...the entire recording a true musical adventure."
Radio God seems to be both a follow up and a response to Get Tribal's acclaimed debut album, God of Drum, which earned the group Best New Artist and Best World Album nominations by the Zone Music Reporter in 2014. While God of Drum's drumming/bass lines were created to actually move up through the body's chakra centers, Radio God is more interpretive and playful, throwing music, media and sounds to the heavens and capturing them as they come back in a sonic rainstorm.
Hohne comments, "I was purposefully looking for the vibe of an old-timey radio landscape similar to what one hears on Oh Brother Where Art Thou, so we approached the mastering team who mastered that soundtrack, at Lurssen Mastering in Hollywood, to work with us on capturing a distinctive sound. They did a great job, and one of them even attends kirtans, so they completely get my drumming vibe."
The simultaneously retro and futuristic outcome is a funky, cinematic, sensual vibe that places percussion in the center with spiritual sounds, modern beats, reggae grooves, chill and techno. A new music video compilation captures this eclectic combination in visuals. The album may be hard to describe in a way that sounds purposeful, but somehow, Hohne makes sense of it all in a compelling and memorable way, which early reviews have confirmed.
Improvijazzation Nation's veteran music writer Dick Metcalf calls Radio God "One of the best fusions of world/New Age/cosmic music that I've heard over my many years of reviewing music..." while Music and Media Focus writes "Radio God is an alchemical blend of diverse rhythms and uplifting grooves, exploring a fusion of sound that is sensual, soul invigorating, and sure to get you moving."
Hohne says her drum-based music was created to fill a void in the market for tracks that are designed to be used with yoga and exercise where one runs faster and holds postures longer.
"I believe drumming has its own melodic tonality. It engages the heart and can lead the listener on a journey of awakening to empowerment. I purposely create space in my compositions that startle the listener to open to the unexpected," she explains, adding "Like dreaming, it is our journey into the unknown that teaches us the most. And just as yoga has a way of placing the body in submission to the spirit, what if we used shamanic drumming to place the body in obedient alignment, allowing our Spirit free to dance?"
Radio God crosses boundaries of time, cultures and genres, making it perfect for yoga, exercise, or simply kicking back and listening. Discover the inspirations and archetypes behind each track in the album's liner notes and on the Radio God website.
Radio God and God of Drum is available in both physical and digital format these online retailers:
CD Baby - http://www.cdbaby.com/cd/gettribal3
iTunes - https://itunes.apple.com/us/album/radio-god/id1038234576
Amazon - http://www.amazon.com/Radio-God-Get-Tribal/dp/B0154BWHL4/
For media requests and interviews, contact Beth Ann Hilton of The B Company, at bethhilton(at)theBcompany(dot)com or at (310) 560-8390.
Broadcast Media promotion for Radio God is being handled by Ed and Stacey Bonk at LAZZ Promotions, reachable at lazzpromotions(at)rogers(dot)com or at 905-470-1230.
Connect online at:
Radio-God.com
Get-Tribal.com
Facebook.com/gogettribal
Twitter.com/karihohne
Kari Hohne's biography: cafeausoul.com/get-tribal/about/kari-hohne-bio
Pinterest: pinterest.com/get1168/my-favorite-shaman/
Track List:
1. GUIP: Sunrise
2. RUAH: Breathe
3. BEJA: Elegant Flow
4. TABA: Out of the Underworld
5. RADIO GOD: Into the Outerworld
6. KEOK: The Gift of Fire
7. ADON: Across the Sea
8. ANKH: Dancing Desert
9. KSHEN: Remove the Red Dust
10 KVED: At One in the World