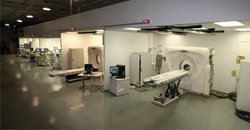 Amber is a unique company in that we execute every aspect of the process ourselves
ORLANDO, FLORIDA (PRWEB) February 08, 2017
Amber Diagnostics has been refurbishing medical imaging and radiology equipment such as MRI machines, CT scanners, C-Arms, X Ray machines, and more since 1994, offering complete remanufacturing from technical to cosmetic. However, Amber, like most small businesses, came from humble beginnings. Very humble, in fact – specifically, the back of a pick-up truck, where Bobby Serros, Amber's founder and CEO, sold hospital beds, incubators, heat monitors and a variety of accessory items as he drove through cities seeking buyers.
After developing his entrepreneurial spirit at a young age, starting a landscaping business and successfully selling it at the age of 21, Bobby Serros dabbled in lobster imports and Oriental rugs before his wife suggested the health care business in 1992. Selling the hospital beds and bedpans on the road brought in some money, but his idea wasn't a goldmine yet. It wasn't until the end of 1993, when a medical equipment dealer in Miami talked Bobby into buying two broken ultrasound machines for $500 which he later fixed and sold for $2,500, that Serros realized the endless possibilities. Bobby directed his focus to buying pre-owned imaging equipment from hospitals and giving the MRI machines, CT scanners, C-Arms and a variety of X-Ray equipment a new reconditioned lease on life in order to sell them to doctors and medical facilities.
The rest, as they say, is history. Bobby started the business with a dream and a pick-up truck, and now, over 23 years later, Amber Diagnostics is one of the leaders in medical imaging refurbishment, and ranking in DOT Med's Top 100 for the past decade. Amber Diagnostics provides end to end service, and features a FDA certified and climate controlled 25,000 sq ft warehouse in their Orlando based office, over 40 employees, and a combined experience of over 75 years of combined experience. Bobby Serros is still in awe at how far his company has come, and just how successful it is. A lot of that, he says, has to do with their commitment to excellence and self-reliance. "Amber is a unique company in that we execute every aspect of the process ourselves," he says. "From de-installation, refurbishment, staging and testing, shipping, and installation; and we make sure our clients are in a position to save money by keeping initial costs of equipment low." Adds Nathan Welch, an Amber MRI and CT professional who has been working at Amber for over 15 years, "We strive every day to go above and beyond, making sure that our quality of service and price is the best available in the medical imaging market."
From small beginnings to a multi-million dollar company, Amber Diagnostics is the true definition of a rags to riches story. Amber reconditions most imaging and radiology equipment, from MRI machines, CT scan machines, ultrasounds, mammography machines, and X-Ray scanners. They offer worldwide service and can travel wherever needed in order to provide necessary and lifesaving imaging equipment.
To learn more about Amber Diagnostics and the many services they provide, please visit https://amberusa.com