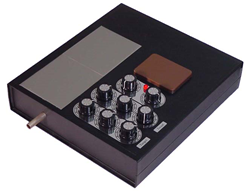 We are very pleased to have the RAD 2400 HD radionics machine in stock.
Dallas, TX (PRWEB) February 27, 2014
The new RAD 2400 HD heavy duty radionics machine with integrated orgone generator arrives at RadionicsBox.com. This powerful, top of the line workstation for radionic professionals features a HD serview heavy duty orgone generator with an additional sound input jack which allows users to double the output energy by connecting a sound source to drive the second internal generator. The radionic device has two well plates for trend and target and two sets of corresponding knobs for setting trend and target rates. The RAD 2400 HD radionic machine is a stand alone device, but it can also be used with the Super Manifestation Ultimate 2.0 software when connected with a structural link chi transfer diagram.
"We are very pleased to have the RAD 2400 HD radionics machine in stock. This is a very popular device and is prone to shortages from time to time. For an individual, this is truly a top-of-the-line radionic machine workstation," says Mike Devino, radionics expert.
Radionics Box is the North American distributor for HSCTI (Hyperspace Communications and Technology International) for Welz Chi Generators, radionic devices and radionics machines as well as radionics software programs. For more information about radionics software or manifestation, visit their website at radionicsbox.com.