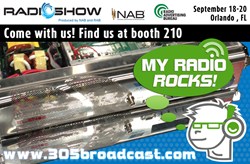 Get ready for a different kind of Radio Show...
Miami, FL (PRWEB) August 14, 2013
305 Broadcast is getting ready for the upcoming Radio Show produced by The National Association of Broadcasters (NAB) and the The Radio Advertising Bureau (RAB). This year, the event is moving to Orlando, Florida, from September 18th to the 20th.
305 Broadcast is ready to continue to bring the best quality and variety products in the Broadcasting industry, which makes the invitees' participation on the show a worthy opportunity to meet with the 305 Broadcast Team, attendees will be able to watch demonstrations, product list availability and opportunities to give an update to their network.
305 Broadcast knows the importance of maintaining a network running effectively and up-to-date, that's why they bring the latest products in the industry. Their main focus is to keep radio stations on the air without interruptions taking great care of the network's investment.
Visit 305 Broadcast at booth #210, to get the latest information on products that are leading the way in the Broadcasting industry.
Radio Show 2013
September 18th ,19th & 20th at the Rosen Shingle Creek Hotel, Orlando, FL USA.
Please go to the link below in order to get a free pass using our VIP Code:
http://registration3.experientevent.com/showNAB132/default.aspx?App=CON&GoTo=Profile&PASSCODE=OR8738.
Looking forward to see you at the Radio Show 2013. For more info about the Radio Show please go to: http://www.radioshowweb.com/default.asp.
305 Broadcast,
The best source of broadcasting equipment!