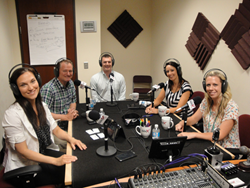 Physical space should provide much more than just a desk and a place to hang your hat...
Atlanta, GA (PRWEB) July 08, 2013
On July 1, 2013, co-hosts Lee Kantor and Stone Payton of BusinessRadioX®'s Atlanta Business Radio sat down with Craig Hyde from Rigor, Kevin Sandlin from deductmor, Sandra Anderson and Melissa Davis from elev8 Staffing and Karen Houghton to discuss their businesses and careers at Atlanta Tech Village.
Atlanta Tech Village, established in 2012, is a community of innovation powered by a 103,000 square foot building located in Buckhead. The ATV is designed to service technology and technology-related companies that have a unique set of needs in their quest to change the world. According to Karen Houghton, Community Manager at ATV, "Physical space should provide much more than just a desk and a place to hang your hat — it should bring the community together, promote serendipitous interactions, and be a powerful tool for recruiting the best talent."
ATV's mission is to support and inspire entrepreneurs to achieve success through a community that promotes faster connections between talent, ideas and capital.
As Co-Founder and President of Rigor, Craig Hyde is responsible for product management, marketing, sales, and operations. Rigor offers web application monitoring, mobile monitoring, instant downtime alerts and performance reports. Hyde is also active in the Advanced Technology Development Center ATDC) at Georgia Tech.
Kevin Sandlin is Founder and President at deductmor, a service for self-employed individuals to capture and store tax receipts. Explained Sandlin, "We created deductmor because we saw a big, gnarly problem every quarter for a lot of people and every year for a whole lot of people." Self-employed professionals don't get a W-2 and don't have a payroll department to handle all their payroll taxes, so deductmor created a very simple way to capture, store, and organize tax deductible expense receipts.
Rounding out the discussion was Sandra Anderson and Melissa Davis, Partners with elev8 Staffing, a firm whose placement specialties include IT, Engineering, and Technical Sales. With a background in top IT staffing and consulting firms in Atlanta, Anderson created alliances and teamed up with some of the most respected, high producing recruiters to form elev8. Davis brings her leadership and strength as a Top Recruiter to source developers, quality assurance, information systems, Data Warehouse, Business Intelligence, and Engineers.
To learn more about Atlanta Tech Village and these featured guests, tune in to this episode at Atlanta Business Radio.
About Lee Kantor:
Lee Kantor has been involved in Internet radio, podcasting and blogging since he started the Dr. Fitness and the Fat Guy show in 2005. Since then, Lee has interviewed well over 1000 entrepreneurs, business owners, authors and celebrities on a variety of shows and at live events. In addition to his hosting duties, Lee is a Managing Partner at BusinessRadioX® and is committed to helping entrepreneurs and business owners in Atlanta learn how to use radio to dramatically grow their businesses.
About Stone Payton:
For over 24 years, Stone Payton has been helping organizations and the people who lead them drive their business strategies more effectively. He is a Managing Partner at BusinessRadioX® and the author of SPEED®: Never Fry Bacon In The Nude: And Other Lessons From The Quick & The Dead, and has dedicated his entire career to helping others produce better results in less time.
About Atlanta Business Radio:
http://www.atlantabusinessradio.businessradiox.com
Each week, from the BusinessRadioX® studio in Sandy Springs, Lee Kantor and Stone Payton interview Atlanta, Georgia's top businessmen and businesswomen to learn what makes them the best at what they do.
About BusinessRadioX®:
BusinessRadioX® provides a turnkey solution for business owners who want to leverage the power of internet radio to meet their best prospects, establish credibility for their organization and heighten the placement of their brand in search engines rankings. With a professional venue and a proven formula, BusinessRadioX® helps hosts podcast their shows and create a regular stream of dynamic content to share with their prospects and feed the search engines every week. Programs are recorded and streamed live to the internet from our studios in the greater Atlanta area. For more information or to hear a live show, visit: http://www.businessradiox.com.