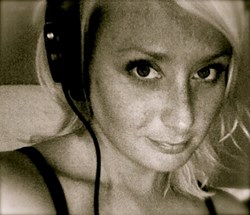 Krista brings a unique perspective to the fast-growing world of filmmaking in Atlanta...
Atlanta, GA (PRWEB) December 06, 2013
On Wednesday, December 11, 2013, BusinessRadioX® welcomes to the studio the latest addition to its radio family, ATL Film Talk, hosted by Krista Berutti from our studio in Sandy Springs.
ATL Film Talk is a show spotlighting local film industry professionals and sponsors about their business and services, event, organization, or production. Berutti will lead an informative discussion with industry experts who share tips, tricks, and the process of different stages in a production. Listeners are encouraged to submit topics or guests they would like to hear on the show. Starting January 3, 2014, you can catch ATL Film Talk at its regular time of 11:30am on Fridays.
Atlanta and the state of Georgia have become a hub for filmmaking in recent years. The city and the state offer highly desirable financial incentives, location diversity, production resources and professional support to make any size production a possibility.
Berutti brings over ten years of sales, marketing, and management experience in various avenues of the film industry including recording studios, sound design/audio post-production companies, and working with individual artists. Berutti moved to Atlanta in 2008 to attend The Art Institute for Audio Production. In addition to her studies she also managed traffic for the school's five studios, worked as a TA, and held the position of Vice Chair for the Audio Engineering Society Atlanta Student Chapter. Berutti currently works in the local indie film scene as a Supervising Sound Editor and as a music publisher [Capture Publishing] for film.
"Krista brings a unique perspective to the fast-growing world of filmmaking in Atlanta, and this show will be an excellent addition to our studio line-up," said Stone Payton, co-founder of BusinessRadioX®.
Join us for this inaugural episode at 11:30am Eastern on Wednesday, December 11th, on ATL Film Talk.
About Business RadioX®:
BusinessRadioX® interviews dozens of innovative entrepreneurs and successful leaders each week. Its mission is to help local businesses Get The Word Out about the important work they're doing for their market, their community, and their profession. With a pro-business slant and a long-form interview format, guests don't have to worry about being ambushed or talking in "sound bites." Guests have enough time to tell their whole story and to share their insights and experience without interruptions. BusinessRadioX® hosts are business professionals interviewing their peers, drilling down on the critical issues, and delivering practical information to an engaged business audience. Business topics that are frequently covered include: Law, Finance, Healthcare, Technology, Trade Shows, B2B Marketing, Venture Capital, Training and Development and other issues impacting the business community. For more information, visit: http://www.businessradiox.com.