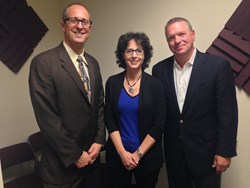 ...premier event where the who's who of communications technology professionals rub elbows and honor outstanding achievements.
Atlanta, GA (PRWEB) October 21, 2013
On October 17, 2013, guest host Sander Biehn of BusinessRadioX®'s High Velocity Radio welcomed to the studio Karen Finger with iVision and Dow Smith with Carousel Industries to discuss the Atlanta Telecommunications Professionals, ATP, and their upcoming Awards Gala.
ATP is a non-profit communications technology industry association. On November 14, 2013 at the Cobb Galleria Centre, they will host their Awards Gala, the premier event where the who's who of communications technology professionals rub elbows and honor outstanding achievements for the year.
Guest host Sander Biehn owns and runs Thought Horizon, a B2B social selling consultancy based on principles he learned while working for AT&T for the past 17 years. Biehn's proven approach helps B2B sales and marketing teams work together to create content and engagement with target markets and customers.
Biehn first welcomed Karen Finger, Director of Cloud Services for iVision, where she leads the Cloud Services line of business. Finger currently serves as the President of ATP where she has been actively involved since 2008. Finger has held various leadership roles on the board including Vice President and Director. She has also chaired and led the advancement for the prestigious ATP Awards Gala in 2009-2013, which recognizes and promotes communications technology leadership, innovation, and excellence coming out of Georgia.
Also in the studio was Dow Smith, Regional Director of Southeast Sales for Carousel Industries. Carousel is a managed solutions provider for datacenter and voice technologies. Prior to his role at Carousel, Smith worked in leadership roles at Siemens, Fujitsu and PWC. He also previously served as the president of an internet marketing firm. Carousel has been a long-time sponsor of ATP and ATP events.
To learn more about ATP and the upcoming Awards Gala, tune in to High Velocity Radio.
About Stone Payton:
For over 24 years, Stone Payton has been helping organizations and the people who lead them drive their business strategies more effectively. He is a managing partner at BusinessRadioX® and the author of SPEED®: Never Fry Bacon In The Nude: And Other Lessons From The Quick & The Dead, and has dedicated his entire career to helping others produce better results in less time.
About Lee Kantor:
Lee Kantor has been involved in Internet radio, podcasting and blogging since he started the Dr. Fitness and the Fat Guy show in 2005. Since then, Lee has interviewed well over 1000 entrepreneurs, business owners, authors and celebrities on a variety of shows and at live events. In addition to his hosting duties, Lee is a managing partner at BusinessRadioX® and is committed to helping entrepreneurs and business owners in Atlanta learn how to use radio to dramatically grow their businesses.
About High Velocity Radio:
http://highvelocityradio.businessradiox.com
High Velocity Radio celebrates Top Performers Producing Better Results In Less Time. The show brings in business leaders and experts to talk about their methods and to help listeners develop the Competence, Confidence, and Commitment to Succeed With SPEED.
About BusinessRadioX®:
BusinessRadioX® interviews dozens of innovative entrepreneurs and successful leaders each week. Its mission is to help local businesses Get The Word Out about the important work they're doing for their market, their community, and their profession. With a pro-business slant and a long-form interview format, guests don't have to worry about being ambushed or talking in "sound bites." Guests have enough time to tell their whole story and to share their insights and experience without interruptions. BusinessRadioX® hosts are business professionals interviewing their peers, drilling down on the critical issues, and delivering practical information to an engaged business audience. Business topics that are frequently covered include: Law, Finance, Healthcare, Technology, Trade Shows, B2B Marketing, Venture Capital, Training and Development and other issues impacting the business community. For more information, visit: http://www.businessradiox.com.