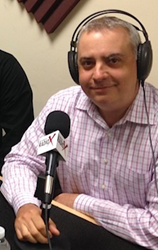 Hadoop is a key component of the next-generation data architecture...MapR is a production-ready distribution for Apache Hadoop.
Atlanta, GA (PRWEB) March 24, 2014
On March 20, 2014, co-hosts Lee Kantor and Stone Payton of BusinessRadioX®'s Atlanta Technology Leaders sat down with Brad Anderson from MapR Technologies to discuss the latest in big data.
Anderson is a Solutions Architect for MapR Technologies, the top-ranked distribution for Apache Hadoop. MapR does this with a proven, enterprise-grade platform that supports a broad set of mission-critical and real-time production uses.
According to Anderson, "Hadoop is a key component of the next-generation data architecture, providing a massively scalable distributed storage and processing platform. MapR is a production-ready distribution for Apache Hadoop." MapR brings unprecedented dependability, ease-of-use and world-record speed to Hadoop, NoSQL, database and streaming applications in one unified big data platform.
Anderson has been wrangling data for 20 years, first with data warehouses, and more recently building and using non-relational data systems in the big data space. Previously, he worked on a large-scale video-on-demand platform in Erlang, helped Cloudant build its hosted NoSQL offering based on CouchDB (IBM just acquired Cloudant), and organized the NoSQL East 2009 conference in Atlanta.
To learn more about Brad Anderson and MapR Technologies, tune in to this episode of Atlanta Technology Leaders.
About Atlanta Technology Leaders:
http://www.atltechleaders.businessradiox.com
Each week we interview Executives, Providers, and Thought Leaders in the Technology community — exploring Trends, sharing Best Practices, and reporting exciting new developments on the Technology scene. Atlanta Technology Leaders, sponsored by Band of Coders, is co-hosted by Stone Payton and Lee Kantor and airs each Thursday at 2:00pm EST.
About Business RadioX®:
BusinessRadioX® interviews dozens of innovative entrepreneurs and successful leaders each week. Its mission is to help local businesses Get The Word Out about the important work they're doing for their market, their community, and their profession. With a pro-business slant and a long-form interview format, guests don't have to worry about being ambushed or talking in "sound bites." Guests have enough time to tell their whole story and to share their insights and experience without interruptions. BusinessRadioX® hosts are business professionals interviewing their peers, drilling down on the critical issues, and delivering practical information to an engaged business audience. Business topics that are frequently covered include: Law, Finance, Healthcare, Technology, Trade Shows, B2B Marketing, Venture Capital, Training and Development and other issues impacting the business community. For more information, visit: http://www.businessradiox.com.