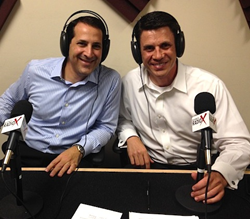 The GCLA is Georgia's preeminent professional association for senior technology leaders.
Atlanta, GA (PRWEB) May 08, 2014
Jay Ferro, Chief Information Officer of The American Cancer Society was interviewed alongside Alan Stukalsky, CIO of Randstad on the May 1, 2014 episode of Atlanta Technology Leaders.
The American Cancer Society (ACS) is a nationwide, community-based voluntary health organization headquartered in Atlanta. ACS has more than 900 local offices in over 5,100 communities. Ferro is responsible for the people, strategy, and operations of the Global Information Technology Organization. He was selected Georgia CIO of the Year in 2011 and currently serves as Chair for the Georgia CIO Leadership Association (GCLA).
The GCLA is Georgia's preeminent professional association for senior technology leaders. Founded in 2003, its membership is comprised exclusively of chief information officers or individuals in equivalent positions from public and private companies, government, education and non-profit organizations throughout the state.
Randstad is the world's second largest provider of human resource solutions and staffing. The goal of Randstad is to be a world leader in labor and HR services.
"Our mission is to put people to work and ultimately make them successful," said Stukalsky. "On a weekly basis, we pay over 100,000 people in the United States alone. We are present in 40 countries."
Stukalsky is responsible for all information technology strategy in the United States for Randstad. He is a member of the Georgia CIO Leadership Association, among many other organizations.
To learn more about the Georgia CIO Leadership Association, tune in to this episode of Atlanta Technology Leaders.
About Atlanta Technology Leaders:
http://www.atltechleaders.businessradiox.com
Each week, we interview Executives, Providers, and Thought Leaders in the Technology community — exploring Trends, sharing Best Practices, and reporting exciting new developments on the Technology scene. Atlanta Technology Leaders, sponsored by Band of Coders, is co-hosted by Stone Payton and Lee Kantor and airs each Thursday at 2:00 p.m. EST.
About Business RadioX®:
Business RadioX® interviews dozens of innovative entrepreneurs and successful leaders each week. Its mission is to help local businesses Get The Word Out about the important work they're doing for their market, their community, and their profession. With a pro-business slant and a long-form interview format, guests don't have to worry about being ambushed or talking in "sound bites." Guests have enough time to tell their whole story and to share their insights and experience without interruptions. BusinessRadioX® hosts are business professionals interviewing their peers, drilling down on the critical issues, and delivering practical information to an engaged business audience. Business topics that are frequently covered include: Law, Finance, Healthcare, Technology, Trade Shows, B2B Marketing, Venture Capital, Training and Development and other issues impacting the business community. For more information, visit: http://www.businessradiox.com.