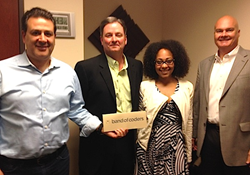 Atlanta, GA (PRWEB) May 22, 2014
Atlanta Technology Leaders radio show had a packed house on May 15, 2014 when they welcomed into the studio four guests: Mark Miller with All Covered; Courtney Staten with CyberScrub; Barry Hayut with XciteGO; and Rob Spessard with Nexus. The guests came together to discuss their company's IT services.
Mark Miller is Senior VP of Sales and Operations at All Covered, a division of Konica Minolta Business Solutions. All Covered provides dynamic managed IT services to businesses to help them really achieve their business goals through better management of information and more efficient collaboration. Miller discussed the issues IT services may face, how using a secure cloud based system is beneficial for a company, and how All Covered is helping all types of businesses improve their IT systems.
"CyberScrub is the technology leader in secure deletion of data at both the enterprise and user level," said Courtney Staten. The company plays a key role in business user privacy and data security. Staten was brought on to the CyberScrub team to help the company's marketing efforts, and is currently focused on promoting CyberScrub's services.
Barry Hayut is founder of XciteGO, a new ecommerce platform with a marketplace exchange for hotel rooms where buyers and sellers can compete in real time to buy and sell available rooms. The site works just like a stock market; a user can change the price of the room and compete with other bidders. "We make the user the king of the hill," explained Hayut. "Seeing a flawed system, we added a demand side to our site."
Rob Spessard explains Nexus as a company that provides technology enablement solutions to meet business needs. Nexus focuses on solving a business's problem by finding a technology solution, designing and crafting the solution, then implementing and managing the final resolution. Spessard commented on Nexus' ability to stay ahead of the curve with constant technology changes.
To learn more about these featured guests, tune in to this episode of Atlanta Technology Leaders.
About Atlanta Technology Leaders:
http://atltechleaders.businessradiox.com
Each week, we interview Executives, Providers, and Thought Leaders in the Technology community — exploring Trends, sharing Best Practices, and reporting exciting new developments on the Technology scene. Atlanta Technology Leaders, sponsored by Band of Coders, is co-hosted by Stone Payton and Lee Kantor and airs each Thursday at 2:00 p.m. EST.
About Business RadioX®:
Business RadioX® interviews dozens of innovative entrepreneurs and successful leaders each week. Its mission is to help local businesses Get The Word Out about the important work they're doing for their market, their community, and their profession. With a pro-business slant and a long-form interview format, guests don't have to worry about being ambushed or talking in "sound bites." Guests have enough time to tell their whole story and to share their insights and experience without interruptions. BusinessRadioX® hosts are business professionals interviewing their peers, drilling down on the critical issues, and delivering practical information to an engaged business audience. Business topics that are frequently covered include: Law, Finance, Healthcare, Technology, Trade Shows, B2B Marketing, Venture Capital, Training and Development and other issues impacting the business community. For more information, visit: http://www.businessradiox.com.