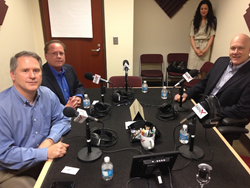 Atlanta, GA (PRWEB) May 28, 2014
The May 22, 2014 episode of Atlanta Technology Leaders on Business RadioX featured Stuart O'Day of DentalPost, Richard Lawrence Duhe of ComplyRX, and Brett Conner of Isotrak. Each guest discussed their diverse companies on the show, which is underwritten by Band of Coders.
Dental Post, a 10 year old Atlanta-based company, has developed what is often considered the leading online and mobile job board for the dental industry. The organization uses technology to help firms build high performance teams from among their 300,000 registered users. O'Day has been charged with doubling production capacity.
"There are incredible advantages that come from having an industry-specific site," said O'Day, Lead Software Developer at Dental Post. "We know applicants' skillsets, and understand procedures, licensing requirements, etc., so the professional feels right at home."
Isotrak has, over the last 15 years, established itself as the market's most innovative and trusted provider of vehicle tracking and telematics solutions. Brett Conner is Chief Operating Officer, North America for the UK-based company. His mission is to save customers time and money through the implementation of fully integrated systems that enable them to cut fuel costs, CO2 emissions, and achieve a raft of related efficiencies.
According to Conner, the company serves many customers, but their sweet spot is retailers and grocers, where on-time delivery is very important. "Communications networks allow us to take advantage of sophisticated sensor technologies in the vehicles, tracking temperature, humidity, shock, rough driving," he said. "We are working to do more with less, to get better utilization of trailers and reduce the movement of trucks. We've helped some companies reduce their fleet size by 10%, and others positively impact their fuel economy by as much as 20%."
Richard Duhe is Founding Partner and Chief Executive Officer of ComplyRX, a technology company that simplifies the administration of health and wellness benefits, streamlines access to information, and improves outcomes while lowering healthcare costs. The secure, interactive member management platform becomes the clearinghouse through which customers deploy and manage health and wellness programs on behalf of their members.
According to Duhe, the platform is extremely powerful and flexible. "Every time I meet someone new, it seems they have ideas for how to use our platform that we would never have thought of. We provide our platform to a nonprofit, for example, that helps get the word out about their clinical research in concussions. For you as an employee, you might utilize our administration dashboard and connect to information on an important topic, training videos, employee/member information that outlines ways to save money. You'll only get targeted information that is related to the things you're interested in, so it becomes a fun tool."
To hear more about these featured guests, tune in to this episode of Atlanta Technology Leaders.
About Atlanta Technology Leaders:
http://atltechleaders.businessradiox.com
Each week, we interview Executives, Providers, and Thought Leaders in the Technology community — exploring Trends, sharing Best Practices, and reporting exciting new developments on the Technology scene. Atlanta Technology Leaders, sponsored by Band of Coders, is co-hosted by Stone Payton and Lee Kantor and airs each Thursday at 2:00 p.m. EST.
About Business RadioX®:
Business RadioX® interviews dozens of innovative entrepreneurs and successful leaders each week. Its mission is to help local businesses Get The Word Out about the important work they're doing for their market, their community, and their profession. With a pro-business slant and a long-form interview format, guests don't have to worry about being ambushed or talking in "sound bites." Guests have enough time to tell their whole story and to share their insights and experience without interruptions. BusinessRadioX® hosts are business professionals interviewing their peers, drilling down on the critical issues, and delivering practical information to an engaged business audience. Business topics that are frequently covered include: Law, Finance, Healthcare, Technology, Trade Shows, B2B Marketing, Venture Capital, Training and Development and other issues impacting the business community. For more information, visit: http://www.businessradiox.com.