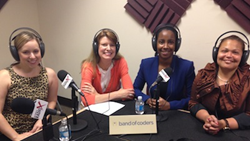 We take women from grade school to the boardroom.
Atlanta, GA (PRWEB) June 04, 2014
Atlanta Technology Leaders had a special edition show on May 29, 2014 with the Women in Technology (WIT) Foundation. Vicki Wright Hamilton, Asia Rahman and Tracy Zucco are all involved with WIT, and joined host Kevin Finn in the studio to update the audience on WIT activities.
Women in Technology (WIT) is a not-for-profit organization with the mission of advancing women in technology - from the classroom to the boardroom - by providing advocacy, leadership development, networking, mentoring and technology education. Atlanta's chapter offers a variety of programs that support women whose careers will take them into Science Technology Education and Math (STEM) fields. "We take women from grade school to the boardroom," explained Hamilton, WIT Board Director. Hamilton is a technology business consultant and founded The Wright Answer, an online mentoring program for women. She has been affiliated with the WIT organization for many years and has seen the value that WIT provides the younger generation.
The type of programs WIT offers range from WIT On Campus, which reaches college students, to the Careers in Action program, which provides developmental programs for all levels of women within the STEM career area.
Asia Rahman, a 2014 WIT On Campus Scholarship recipient, started her journey with WIT a year ago when she began an internship with EdgeSolutions. This offered her the opportunity to get involved by getting to know the WIT women, accepting their advice and gaining confidence in the professional work environment by being part of the foundation.
Tracy Zucco, Director of Human Resources for Gobal IT with Brambles, works with the WIT Intern Program, a resource for college students that are looking for an internship in the technology industry. "An internship program can really give someone real life experience that helps put the theoretical knowledge learned in the classroom to practical use," said Zucco.
To learn more about the WIT Foundation, tune in to this episode of Atlanta Technology Leaders.
About Atlanta Technology Leaders:
http://atltechleaders.businessradiox.com
Each week, we interview Executives, Providers, and Thought Leaders in the Technology community — exploring Trends, sharing Best Practices, and reporting exciting new developments on the Technology scene. Atlanta Technology Leaders, sponsored by Band of Coders, is co-hosted by Stone Payton and Lee Kantor and airs each Thursday at 2:00 p.m. EST.
About Business RadioX®:
Business RadioX® interviews dozens of innovative entrepreneurs and successful leaders each week. Its mission is to help local businesses Get The Word Out about the important work they're doing for their market, their community, and their profession. With a pro-business slant and a long-form interview format, guests don't have to worry about being ambushed or talking in "sound bites." Guests have enough time to tell their whole story and to share their insights and experience without interruptions. BusinessRadioX® hosts are business professionals interviewing their peers, drilling down on the critical issues, and delivering practical information to an engaged business audience. Business topics that are frequently covered include: Law, Finance, Healthcare, Technology, Trade Shows, B2B Marketing, Venture Capital, Training and Development and other issues impacting the business community. For more information, visit: http://www.businessradiox.com.