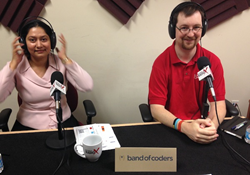 Most entrepreneurs turn to friends when they need help in the business...
Atlanta, GA (PRWEB) June 18, 2014
On June 12, 2014, Atlanta Technology Leaders featured two guests that help entrepreneurs and developers improve their business. Band of Coders sponsors host, Kevin Finn, as he interviews Sapna Tauro, CEO of Great Advancement, and Charlie Hawkins, founder and editor of Altered Confusion.
Great Advancement is a marketing, staffing, technology and B2B networking company focused on small and emerging businesses. According to founder and CEO Sapna Tauro, the company was founded to "help sole proprietors that wear too many hats, and do so very inexpensively." Services such as staffing are offered at prices significantly less expensive than traditional recruitment agencies, running as low at $10 per month for three months. "Most entrepreneurs turn to friends when they need help in the business. Having a friend is good, but it's better to find and hire a talented person that can help you grow your business. That's where we come in."
The company also offers technology and marketing consulting, so that companies whose core competency is manufacturing can focus on manufacturing and leave the back end technology or marketing to Great Advancement. "We welcome all companies of all sizes, building our business with the intention of helping small businesses," continued Tauro. "When they grow, we get 10% of the profits. It is a win/win for business and the community."
Charlie Hawkins founded Altered Confusion, a website dedicated to reviews of video games, in order to help smaller and independent game developers get their products reviewed. "Everyone knows about Madden and Call of Duty," said Hawkins, "but small, independent game developers don't have that voice. We review every game we can find, and treat the independent developer just like the big corporate developers that spend millions of dollars advertising."
Hawkins suggested that significant change is on the horizon for the video game market. He speaks on panels at game developer conferences, often on the topic, The Destruction of Game Industry as we Know It. "We're at a crossroads with video games," he says. "AAA titles are just doing reboots and most of them are getting rid of single player games. There's a huge hole created that independent developers could fill if people knew about their games. That's the problem I'm solving with Altered Confusion."
To learn more about these featured guests, tune in to this episode of Atlanta Technology Leaders.
About Atlanta Technology Leaders:
http://atltechleaders.businessradiox.com
Each week, we interview executives, providers, and thought leaders in the technology community — exploring trends, sharing best practices, and reporting exciting new developments on the technology scene. Atlanta Technology Leaders, sponsored by Band of Coders, is co-hosted by Stone Payton and Lee Kantor, and airs each Thursday at 2:00 p.m. EST.
About Business RadioX®:
Business RadioX® interviews dozens of innovative entrepreneurs and successful leaders each week. Its mission is to help local businesses get the word out about the important work they're doing for their market, their community, and their profession. With a pro-business slant and a long-form interview format, guests don't have to worry about being ambushed or talking in "sound bites." Guests have enough time to tell their whole story and to share their insights and experience without interruptions. BusinessRadioX® hosts are business professionals interviewing their peers, drilling down on the critical issues, and delivering practical information to an engaged business audience. Business topics that are frequently covered include: Law, Finance, Healthcare, Technology, Trade Shows, B2B Marketing, Venture Capital, Training and Development and other issues impacting the business community. For more information, visit: http://www.businessradiox.com.