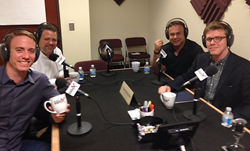 Atlanta, GA (PRWEB) June 25, 2014
Atlanta Technology Leaders hosted its live show on June 19, 2014, with guests James Yancey of CloudTags, Nickolas Downey of Nead Werx, Inc. , Will McGinnis of Predikto Analytics, and Sean Gordon of Intelliverse. The four guests joined host Kevin Finn in the Business RadioX studio to discuss their companies and roles they play in the Atlanta technology industry.
James Yancey is Founder and CEO of CloudTags, a company that encourages customers to use a store's mobile app when inside the store. "We want to remove all the barriers of having a digital experience in the store," explained Yancey. "CloudTags allow sales associates to sell via images and identify who the customer is."
Nickolas Downey is CEO of Nead Werx, Inc., an Atlanta software consulting firm. They are a full service custom software house specializing in rapid development of modern and efficient web and mobile apps. Nead Werx allows the user to learn at a much quicker rate by streamlining the interface.
Will McGinnis is an Analytics Engineer and was the first employee at Predikto Analytics. Predikto helps asset-intensive organizations be more proactive and more efficient in anticipating future potential failures of critical assets. Predikto works with large companies such as steel mills and railroads.
As CEO, Sean Gordon helps drive Intelliverse to exceed the expectations of every customer with cloud communications solutions, leveraging the most current technologies, reinforced by a world-class customer experience.
To learn more about these featured guests, tune in to this episode of Atlanta Technology Leaders.
About Atlanta Technology Leaders:
http://atltechleaders.businessradiox.com
Each week, we interview executives, providers, and thought leaders in the technology community — exploring trends, sharing best practices, and reporting exciting new developments on the technology scene. Atlanta Technology Leaders, sponsored by Band of Coders, is co-hosted by Stone Payton and Lee Kantor, and airs each Thursday at 2:00 p.m. EST.
About Business RadioX®:
Business RadioX® interviews dozens of innovative entrepreneurs and successful leaders each week. Its mission is to help local businesses get the word out about the important work they're doing for their market, their community, and their profession. With a pro-business slant and a long-form interview format, guests don't have to worry about being ambushed or talking in "sound bites." Guests have enough time to tell their whole story and to share their insights and experience without interruptions. BusinessRadioX® hosts are business professionals interviewing their peers, drilling down on the critical issues, and delivering practical information to an engaged business audience. Business topics that are frequently covered include: Law, Finance, Healthcare, Technology, Trade Shows, B2B Marketing, Venture Capital, Training and Development and other issues impacting the business community. For more information, visit: http://www.businessradiox.com.