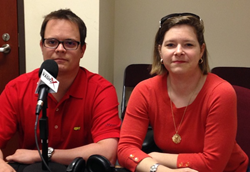 The main principle of the BMA Atlanta Chapter is to bring education, influence and resources back to the B2B marketing community in the region.
Atlanta, GA (PRWEB) May 26, 2014
A special edition of Atlanta Business Radio, Business Marketing Association (BMA) Atlanta, was broadcasted on May 8, 2014. Host Kevin Finn welcomed to the studio Patrick Blanchard and Moira Vetter to continue an ongoing discussion about BMA Atlanta.
BMA is a national business-to-business marketing association that provides quality, professional advice to its members. "The main principle of the BMA Atlanta Chapter is to bring education, influence and resources back to the B2B marketing community in the region," explained BMA's VP of Social Media, Patrick Blanchard. Specifically, the BMA hosts forums to hear what people are doing practically as marketing mixes, channels and mediums to move forward so businesses are using best practices.
Blanchard shared his knowledge and additional insights into how to use social media platforms for B2B marketing. During his day job, Blanchard is the Key Account Manager and Director of Business Development for TwentySix2 Marketing, a company that provides search engine optimization, paid search, social media, content marketing and web design services.
"SEO is good, quality content creation," Blanchard said. "It is site health. Does your site function well? Do you have good, quality content? Are you interacting well with the social aspects of the internet? Are you a thought leader?"
Moira Vetter is BMA Atlanta's President Elect, as well as CEO of Modo Modo Agency, a strategic B2B marketing firm and the second fastest growing woman-owned business in Atlanta. With expertise in branding and thought leadership for complex B2B businesses, Vetter explains superior SEO tactics.
"If you stick to the fundamentals, if you stay on point and you really focus your content marketing on being frequent and relevant, you will emerge," commented Vetter.
To learn more about BMA Atlanta, tune in to this episode of Atlanta Business Radio.
About Lee Kantor:
Lee Kantor has been involved in Internet radio, podcasting and blogging since he started the Dr. Fitness and the Fat Guy show in 2005. Since then, Lee has interviewed well over 1000 entrepreneurs, business owners, authors and celebrities on a variety of shows and at live events. In addition to his hosting duties, Lee is a Managing Partner at BusinessRadioX® and is committed to helping entrepreneurs and business owners in Atlanta learn how to use radio to dramatically grow their businesses.
About Stone Payton:
For over 24 years, Stone Payton has been helping organizations and the people who lead them drive their business strategies more effectively. He is a Managing Partner at BusinessRadioX® and the author of SPEED®: Never Fry Bacon In The Nude: And Other Lessons From The Quick & The Dead, and has dedicated his entire career to helping others produce better results in less time.
About Atlanta Business Radio:
http://atlantabusinessradio.businessradiox.com
Each week, from the BusinessRadioX® studio in Sandy Springs, Lee Kantor and Stone Payton interview Atlanta, Georgia's top businessmen and businesswomen to learn what makes them the best at what they do.
About Business RadioX®:
BusinessRadioX® interviews dozens of innovative entrepreneurs and successful leaders each week. Its mission is to help local businesses Get The Word Out about the important work they're doing for their market, their community, and their profession. With a pro-business slant and a long-form interview format, guests don't have to worry about being ambushed or talking in "sound bites." Guests have enough time to tell their whole story and to share their insights and experience without interruptions. BusinessRadioX® hosts are business professionals interviewing their peers, drilling down on the critical issues, and delivering practical information to an engaged business audience. Business topics that are frequently covered include: Law, Finance, Healthcare, Technology, Trade Shows, B2B Marketing, Venture Capital, Training and Development and other issues impacting the business community. For more information, visit: http://www.businessradiox.com.