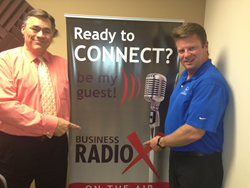 Ben did an outstanding job of articulating the value proposition of the new Dell.
Atlanta, GA (PRWEB) July 22, 2013
On July 17, 2013, host Ricky Steele of Booth 61 on Business RadioX® welcomed to the studio Ben Hendrick, Regional Director for Dell Services.
As Regional Director for the Southeast area at Dell, Hendrick is responsible for the Global Infrastructure Consulting Services (GICS) Service Line, which includes: Technical Consultants, Project Managers, and Regional Managers. His focus is on repeat business (LAND & EXPAND) through Field Consulting Idenitified Opportunities.
According to Steele, "Ben did an outstanding job of articulating the value proposition of the new Dell. I have learned a great deal about Dell since Ben joined the company five years ago but I learned a lot more during our time together in Booth 61." Hendrick recognized Dell SecureWorks and the outstanding company Mike Cote, Tyler Winkler, and the entire SecureWorks team built before Dell purchased their company last year. Dell SecureWorks has become one of the fastest growing business units in the Dell Corporation.
Hendrick and Dell have made tremendous contributions to the city of Atlanta since Hendrick accepted responsibility to be the civic and not-for-profit advocate for Dell in the Southeast. Much of Hendrick's growth and success is because of his involvement in TechBridge, WIT, and the GCLA CIO of the Year Awards. During the interview, Hendrick also highlighted the recent establishment of a WISE (Women In Search of Excellence) resource group in Atlanta to support and help women who are employees at Dell succeed.
To hear more about Ben Hendrick and Dell's presence in Atlanta, listen to the complete interview on Booth 61 with Ricky Steele.
About Booth 61 with Ricky Steele:
http://booth61.businessradiox.com/
Booth 61 with Ricky Steele is the place for the latest news and information from the Atlanta technology scene. From C-level execs to startup pros, host Ricky Steele is bringing all the movers and shakers in Atlanta tech to his home away from home in Booth 61. The show is named after the well-known booth at Buckhead's OK Café, where for the past 20 years, technology and business leaders have been discussing the issues, the highlights, and the successes of their industries over breakfast. The Booth 61 show brings these conversations to the public by sharing, promoting, and celebrating Atlanta's thriving technology community. Join us every Wednesday at 2:00pm EST to be part of the conversation.
About BusinessRadioX®:
BusinessRadioX® provides a turnkey solution for business owners who want to leverage the power of internet radio to meet their best prospects, establish credibility for their organization and heighten the placement of their brand in search engines rankings. With a professional venue and a proven formula, BusinessRadioX® helps hosts podcast their shows and create a regular stream of dynamic content to share with their prospects and feed the search engines every week. Programs are recorded and streamed live to the internet from our studios in the greater Atlanta area. For more information or to hear a live show, visit: http://www.businessradiox.com.