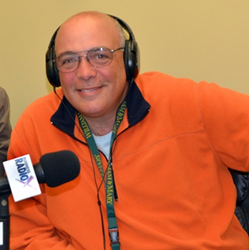 Our role is to give companies money to help them get ready to raise money.
Wilmington, NC (PRWEB) April 14, 2014
David Rizzo, President and CEO of NC IDEA, came to Wilmington's Business RadioX® studio on March 17, 2014 to speak with Bridges to Business host Ann Revell-Pechar about how NC IDEA and IDEA Fund Partners are helping early stage growth companies impact the world.
NC IDEA, best known for their NC IDEA grant, is a not-for-profit organization dedicated to providing growth companies with the financial means to be successful. NC IDEA serves as a resource for these startup companies, focusing on information technology, medical diagnostics and devices, material sciences, and green technologies.
"Our role is to give companies money to help them get ready to raise money," said David Rizzo, President and CEO of NC IDEA. "We provide grants up to $50,000. No strings attached."
Rizzo discussed how outside investors put their money toward these growth businesses—software companies, mobile device companies, etc.—because they believe in the businesses enough to want to see them succeed.
NC IDEA had 133 companies apply for grants this spring. The grant winners will be announced in early June.
David Rizzo is President and CEO of NC IDEA and is a Venture Partner with IDEA Fund Partners, one of the most active seed and early stage venture investors in NC and throughout the Southeast. He currently serves on the boards of NC IDEA, CED (Council for Entrepreneurial Development), STI TechInventures, Affinergy, Strikeiron, and Ziptronix.
To hear David Rizzo's full radio show, tune in to this episode of Bridges to Business.
About Bridges to Business:
Bridges-to-Business (BtoB) features interviews with business leaders who are helping North Carolina grow and prosper – no matter which bridge they crossed to get here. Bridges to Business is hosted by Business RadioX® North Carolina's Ann Revell-Pechar and airs each Friday at 3:30pm EST. To hear more shows, visit http://bridgestobusiness.businessradiox.com/shows/.
About Business RadioX®:
Business RadioX® interviews dozens of innovative entrepreneurs and successful leaders each week. Its mission is to help local businesses Get The Word Out about the important work they're doing for their market, their community, and their profession. With a pro-business slant and a long-form interview format, guests don't have to worry about being ambushed or talking in "sound bites." Guests have enough time to tell their whole story and to share their insights and experience without interruptions. BusinessRadioX® hosts are business professionals interviewing their peers, drilling down on the critical issues, and delivering practical information to an engaged business audience. Business topics that are frequently covered include: Law, Finance, Healthcare, Technology, Trade Shows, B2B Marketing, Venture Capital, Training and Development and other issues impacting the business community. For more information, visit: http://www.businessradiox.com.