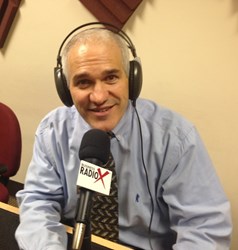 The heart of the Atlanta financial district is Buckhead, and this studio is another important step in our expansion.
Atlanta, GA (PRWEB) January 30, 2014
BusinessRadioX® is proud to welcome Rich Casanova as the newest Studio Operator in Atlanta with the Buckhead Studio.
Casanova began his broadcasting career in California's central valley at KSKS-FM. While in California he also ran a successful entertainment company whose staff and crew entertained over 100,000 people. After selling his entertainment company, Casanova ventured into the publishing business as Publisher and Franchise Owner of Coffee News, headquartered in Bangor, ME.
More recently, Casanova is known as the Founder and CCO, Chief Connection Officer, of AtlantaBusinessNetworking.com, an online platform where local business professionals can register to receive a free list of the top 100 networking events in metro Atlanta.
With a name like Rich Casanova and his gregarious personality, he was a natural as a music radio DJ. "I got the radio bug early in my career and have often thought how great it would be if there was an opportunity to participate in a talk radio format with a pro-business perspective interviewing thought leaders from the local business community… and along come Lee Kantor, Stone Payton and all the great people behind Business RadioX® and I knew I found a home and a professional calling."
Casanova is launching his first show, Buckhead Business Radio, with the inaugural episode on Tuesday, February 4, 2014 at 10am EST. Buckhead Business Radio spotlights thought leaders and companies doing business in and around the Buckhead community with compelling stories to tell.
"The heart of the Atlanta financial district is Buckhead, and this studio is another important step in our expansion," said Lee Kantor, founder of BusinessRadioX®.
Please join us in welcoming Buckhead to our studio family, and tune in to Buckhead Business Radio for Casanova's opening broadcast on Tuesday, February 4 at 10am.
About Business RadioX®:
BusinessRadioX® interviews dozens of innovative entrepreneurs and successful leaders each week. Its mission is to help local businesses Get The Word Out about the important work they're doing for their market, their community, and their profession. With a pro-business slant and a long-form interview format, guests don't have to worry about being ambushed or talking in "sound bites." Guests have enough time to tell their whole story and to share their insights and experience without interruptions. BusinessRadioX® hosts are business professionals interviewing their peers, drilling down on the critical issues, and delivering practical information to an engaged business audience. Business topics that are frequently covered include: Law, Finance, Healthcare, Technology, Trade Shows, B2B Marketing, Venture Capital, Training and Development and other issues impacting the business community. For more information, visit: http://www.businessradiox.com.