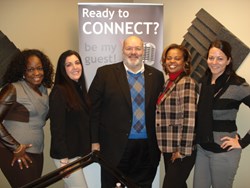 Atlanta, GA (PRWEB) February 06, 2014
On January 24, 2014, co-hosts Tess Turrin and Angel Nowlin of BusinessRadioX®'s Business Leaders of Today welcomed to the Gwinnett studio Elissa Dooman and Michael Chapin with Greater Gwinnett Championship, Russell Longcore with FlexKom America and Karen Hines with Karen G. Hines and Associates about their businesses and careers.
Tournament Director Elissa Dooman and Sales Manager Michael Chapin are with the upcoming Greater Gwinnett Championship, happening April 14-20 at TPC Sugarloaf. This PGA TOUR's Champions Tour Event will feature 81 Champions Tour professionals competing for a $1.8 million purse. All three rounds of the Greater Gwinnett Championship will be televised nationally by Golf Channel and proceeds from the event will benefit local charities through the Gwinnett Championship Foundation, Inc.
Russell Longcore is a founding member of the FlexKom America leadership team. FlexKom International is a German mobile commerce company that was founded in 2010 in Munich, Germany. FlexKom has created a revolutionary customer loyalty and rewards program that is sweeping across Europe, changing the way that small business does business. FlexKom is currently operating in 25 countries and is just launching in the United States.
Attorney Karen Gregory Hines has been licensed to practice law in the state of Georgia since 2000 and incorporated Karen G. Hines and Associates shortly thereafter. Hines believes in serving the community with the highest standards of professionalism and integrity while counseling and advising clients in light of the ever evolving changes in law. She currently has on staff a legal assistant, a paralegal with a law degree, and an intern. On occasion, she associates with other attorneys in the fulfillment of clients' obligations.
To learn more about these featured guests, listen to this interview in its entirety on Business Leaders of Today.
About Business Leaders of Today:
http://www.businessleaders.businessradiox.com
Business Leaders of Today is hosted by Tess Turrin with basiQa and Angel Nowlin with Nationwide. Each week they give the best business leaders of today a forum to feature themselves and their companies to discuss different topics that pertain to their industry. Listeners have a unique opportunity to pick up various innovative industry tips, expert advice, and insider trends from the brightest and sharpest business leaders out there today. Business Leaders of Today airs on Fridays at 11:30am EST.
About Business RadioX®:
BusinessRadioX® interviews dozens of innovative entrepreneurs and successful leaders each week. Its mission is to help local businesses Get The Word Out about the important work they're doing for their market, their community, and their profession. With a pro-business slant and a long-form interview format, guests don't have to worry about being ambushed or talking in "sound bites." Guests have enough time to tell their whole story and to share their insights and experience without interruptions. BusinessRadioX® hosts are business professionals interviewing their peers, drilling down on the critical issues, and delivering practical information to an engaged business audience. Business topics that are frequently covered include: Law, Finance, Healthcare, Technology, Trade Shows, B2B Marketing, Venture Capital, Training and Development and other issues impacting the business community. For more information, visit: http://www.businessradiox.com.