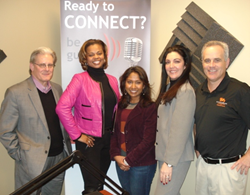 Atlanta, GA (PRWEB) February 26, 2014
On February 1, 2014, co-hosts Angel Nowlin and Tess Turrin of BusinessRadioX®'s Business Leaders of Today welcomed to the Gwinnett studio Bill Deignan with Molto Marketing and Productions, Lloyd Lofton with American Eagle Financial Services and Anita Atkinson with Patterson and Dewar Engineers to talk about their businesses and careers.
Bill Deignan is Founder of Molto Marketing and Productions, a small, full service media production and marketing firm with extensive experience creating award winning content for clients like Coors Brewing, Aarons, Gem Shopping Network, KB Homes and many more clients of all sizes. Molto Marketing leverages decades of experience creating content to assist their clients in telling their story in a way that builds a foundation of trust among prospects and customers alike. The team at Molto loves getting to the heart of a business's core values, and bringing them to life on-screen. According to Deignan, "We don't just show up with a bunch of cameras and lights and start shooting away. We love to spend time getting to know you and your business."
Also in the studio was Lloyd Lofton, COO of American Eagle Financial Services. Explained Lofton, "We are dedicated to providing consumer and financial products that provide quality with value pricing." American Eagle operates in two primary market segments - consumer and business-2-business. They wish to establish a successful partnership with their clients, staff members, and partner companies, that respects the interests and goals of each party. According to Lofton, "Success will be measured by our clients choosing us because of their belief in our ability to meet or exceed their expectations of price, service, and expertise."
Rounding out the discussion was Anita Atkinson who heads the Civil Engineering Department with Patterson and Dewar Engineers, a consulting firm specializing in electrical, mechanical and civil engineering. Primarily supporting electrical utilities, Patterson and Dewar operates from their headquarters in Atlanta with regional offices in Dallas and Amarillo, Texas. "Our clients include mission critical facilities owners, commercial and industrial customers and government institutions, along with electrical utilities, distribution cooperatives, and municipalities," said Atkinson.
To learn more about these featured guests, listen to this interview in its entirety on Business Leaders of Today.
About Business Leaders of Today:
http://www.businessleaders.businessradiox.com
Business Leaders of Today is hosted by Tess Turrin with basiQa and Angel Nowlin with Nationwide. Each week they give the best business leaders of today a forum to feature themselves and their companies to discuss different topics that pertain to their industry. Listeners have a unique opportunity to pick up various innovative industry tips, expert advice, and insider trends from the brightest and sharpest business leaders out there today. Business Leaders of Today airs on Fridays at 11:30am EST.
About Business RadioX®:
BusinessRadioX® interviews dozens of innovative entrepreneurs and successful leaders each week. Its mission is to help local businesses Get The Word Out about the important work they're doing for their market, their community, and their profession. With a pro-business slant and a long-form interview format, guests don't have to worry about being ambushed or talking in "sound bites." Guests have enough time to tell their whole story and to share their insights and experience without interruptions. BusinessRadioX® hosts are business professionals interviewing their peers, drilling down on the critical issues, and delivering practical information to an engaged business audience. Business topics that are frequently covered include: Law, Finance, Healthcare, Technology, Trade Shows, B2B Marketing, Venture Capital, Training and Development and other issues impacting the business community. For more information, visit: http://www.businessradiox.com.