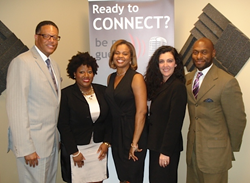 Atlanta, GA (PRWEB) June 19, 2014
Business Leaders of Today, a weekly show aired on Gwinnett Business RadioX with hosts Tess Turrin and Angel Nowlin, featured a distinctive group during their May 9, 2014 show. Guests included Cobb County Judge Nathan Wade, Kevin Brewer with KMG Insurance Solutions and Melissa White with National Sales Network Atlanta.
Judge Nathan Wade, an Associate Municipal Court Judge for the City of Marietta, is a former Special Assistant Attorney General and Pro Hac State Court Judge. In addition to serving the Court, Judge Wade is a partner of The Wade & Bradley Firm in Cobb County, and is running for Cobb County Superior Court Judge. When asked why citizens should vote for Judge Wade, he responded with, "you will vote for me for three reasons; experience, experience, experience."
KMG Insurance Solutions is an insurance brokerage firm that focuses on providing the client with affordable comprehensive insurance to fit their needs. As a KMG sales representative, Kevin Brewer is an expert in health, life, and Medicare insurance. With the complexities of health insurance, Brewer's approach is to ask numerous questions in order to find the best coverage for each client.
National Sales Network of Atlanta was represented by Melissa White. The organization was started to fill a void for African-American sales professionals; however the organization is now open to all diversities and cultures. "The quality of the relationships in the organization is very powerful," explained White. "The strength in the different members' sales backgrounds leads to greater growth and development through networking opportunities." Within the NSN close-knit group there is a very diverse set of power players in the sales industry to learn from.
To learn more about these featured guests, listen to this interview in its entirety on Business Leaders of Today.
About Business Leaders of Today:
http://businessleaders.businessradiox.com
Business Leaders of Today is hosted by Tess Turrin with basiQa and Angel Nowlin with Nationwide. Each week they give the best business leaders of today a forum to feature themselves and their companies to discuss different topics that pertain to their industry. Listeners have a unique opportunity to pick up various innovative industry tips, expert advice, and insider trends from the brightest and sharpest business leaders out there today. Business Leaders of Today airs on Fridays at 11:30am EST.
About Business RadioX®:
Business RadioX® interviews dozens of innovative entrepreneurs and successful leaders each week. Its mission is to help local businesses Get The Word Out about the important work they're doing for their market, their community, and their profession. With a pro-business slant and a long-form interview format, guests don't have to worry about being ambushed or talking in "sound bites." Guests have enough time to tell their whole story and to share their insights and experience without interruptions. BusinessRadioX® hosts are business professionals interviewing their peers, drilling down on the critical issues, and delivering practical information to an engaged business audience. Business topics that are frequently covered include: Law, Finance, Healthcare, Technology, Trade Shows, B2B Marketing, Venture Capital, Training and Development and other issues impacting the business community. For more information, visit: http://www.businessradiox.com.