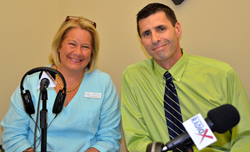 MARS is a facility that focuses on early detection of memory decline in order to facilitate intervention...
Wilmington, NC (PRWEB) May 23, 2014
On April 24, 2014 host Tom Pechar welcomed into his studio Dr. Len Lecci with MARS Memory Health Network and Roxanne Noble with Noble Care Management. Together they discussed what role they play in each organization, and how they are helping the senior community in the greater Wilmington N.C. area.
Dr. Len Lecci is the Director of Clinical Services at MARS and a Professor of Psychology at UNCW. According to Lecci, MARS is a facility that "focuses on early detection of memory decline in order to facilitate intervention before people get too far along in memory loss process."
As a checkup from the neck up, MARS does not replace primary doctor visits, but they do approach memory loss differently. Instead of waiting for an occurrence showing memory decline, Lecci and involved doctors have developed a more proactive protocol. Lecci suggests engaging in physical activity, a mentally healthy lifestyle, and a healthy diet to help with the onset of memory loss.
Roxanne Noble is a clinical patient advocate. Noble Care Management assists patients as they navigate clinical issues on a broad spectrum. Having been a nurse for nearly 30 years prior to starting this company, Noble has found that elder patients need assistance with many common problems, such as paperwork, medical dosages, and doctor visits. Noble will visit a patient directly in their home and work with them on a daily basis.
To learn more about Dr. Len Lecci and MARS Memory Health Network, and Roxanne Noble, listen to this entire interview on Cape Fear Seniors.
About Cape Fear Seniors:
Cape Fear Seniors focuses on a wide range of issues faced by seniors in the Cape Fear Region. Every week, we bring insight to topics that impact those in our region, including availability and breadth of government services, veterans issues, elder law, health care, lifestyle – and even fun events in which seniors can participate. Cape Fear Seniors is hosted by Tom Pechar and airs weekly on Thursdays at 11:30am Eastern. To listen to other episodes of Cape Fear Seniors, tune in to: http://capefearseniors.businessradiox.com/shows/.
About Business RadioX®:
Business RadioX® interviews dozens of innovative entrepreneurs and successful leaders each week. Its mission is to help local businesses get the word out about the important work they're doing for their market, their community, and their profession. With a pro-business slant and a long-form interview format, guests don't have to worry about being ambushed or talking in "sound bites." Guests have enough time to tell their whole story and to share their insights and experience without interruptions. BusinessRadioX® hosts are business professionals interviewing their peers, drilling down on the critical issues, and delivering practical information to an engaged business audience. Business topics that are frequently covered include: law, finance, healthcare, technology, trade shows, B2B marketing, venture capital, training and development and other issues impacting the business community. For more information, visit: http://www.businessradiox.com.