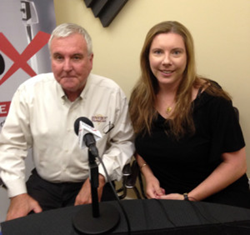 It is very important to me that we know our client, their family and the situation they are in...
Wilmington, NC (PRWEB) June 20, 2014
On the May 16, 2014 episode of Cape Fear Seniors Radio, host Tom Pechar interviewed Kelly Shovelin, founding attorney of Four Pillars Law Firm and discussed the services provided for seniors in the Cape Fear region.
Four Pillars Law Firm is a practice dedicated to providing families with financial peace of mind. The firm offers four areas of practice: estate planning and administration; asset protection; veterans' benefits; and elder law and long-term care planning.
Kelly Shovelin, founding attorney and counselor at law, is responsible for the name "Four Pillars Law," which was selected to represent the firm's founding practices. As she did not want to be a courtroom lawyer, Shovelin chose to enter a practice that allowed her to help families prepare for their future and interact on a more intimate level. She specializes in estate planning, helping her clients prepare for the future to protect their hard-earned assets. She explains four core documents that are very important to have in place when aging: general durable power of attorney; health care power of attorney; a living will; and medical records release authorization.
The Four Pillars Law Firm considers their clients as extended family members, and their trust is highly valued. "It is very important to me that we know our client, their family and the situation they are in, in order to personalize our recommendations and estate plan," explained Shovelin.
To learn more about Four Pillars Law Firm and Kelly Shovelin, listen to the entire interview on Cape Fear Seniors Radio.
About Cape Fear Seniors:
Cape Fear Seniors focuses on a wide range of issues faced by seniors in the Cape Fear Region. Every week, we bring insight to topics that impact those in our region, including availability and breadth of government services, veterans issues, elder law, health care, lifestyle – and even fun events in which seniors can participate. Cape Fear Seniors is hosted by Tom Pechar and airs weekly on Thursdays at 11:30am Eastern. To listen to other episodes of Cape Fear Seniors, tune in to: http://capefearseniors.businessradiox.com/shows/.
About Business RadioX®:
Business RadioX® interviews dozens of innovative entrepreneurs and successful leaders each week. Its mission is to help local businesses get the word out about the important work they're doing for their market, their community, and their profession. With a pro-business slant and a long-form interview format, guests don't have to worry about being ambushed or talking in "sound bites." Guests have enough time to tell their whole story and to share their insights and experience without interruptions. BusinessRadioX® hosts are business professionals interviewing their peers, drilling down on the critical issues, and delivering practical information to an engaged business audience. Business topics that are frequently covered include: law, finance, healthcare, technology, trade shows, B2B marketing, venture capital, training and development and other issues impacting the business community. For more information, visit: http://www.businessradiox.com.