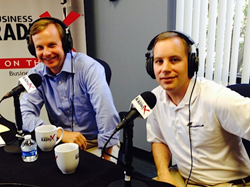 We can be very helpful by making introductions, whether it's to investors, CPAs or attorneys.
Raleigh, NC (PRWEB) June 09, 2014
Host Ann Revell-Pechar and Co-Host Cal Hackman of Carolina Connections Radio welcomed into the studio Russ Kanjorski with Semprius and Chris Stoecker with Silicon Valley Bank on May 29, 2014 in the Business RadioX Studio.
Russ Kanjorski is the Vice President of Business Development at Semprius, Inc., an innovative solar company that uses patented technology and a state-of-the-art manufacturing process to produce cost-competitive, sustainable solar electricity. Semprius products provide extremely cost-effective energy using solar modules that regularly reach 35% efficiency -- twice that of standard solar panels.
Semprius is currently in eight countries and four U.S. states. In the U.S., their technology is most effective in the Southwest because of the amount of sun they receive – important, as the technology utilizes a tracker system to follow the sun. Primary customers include engineer procurement and construction companies (EPC), those responsible for choosing the technology to be used on new construction sites.
Joining the interview from Silicon Valley Bank was Chris Stoecker, Director of the Carolina Region. Stoecker described the company as "a bank for the innovation economy with a core mission to increase the innovative company's probability success worldwide."
Silicon Valley Bank, a commercial bank that specializes in technology start-up companies of any size, but is not limited to that industry, builds relationships with their clients at the early stages of their business. The firm is headquartered in Silicon Valley, California, has 27 offices in the U.S., and additional joint venture offices in the United Kingdom and China. The bank assists their clients not with just their financial needs, but by partnering with them. "We can be very helpful by making introductions, whether it's to investors, CPAs or attorneys," explained Stoecker.
To learn more about Silicon Valley Bank and Semprius, listen to the entire interview at Carolina Connections.
About Carolina Connections:
http://carolinaconnections.businessradiox.com
Business Leaders in the Raleigh and Wake Forest areas of North Carolina appear weekly as guests of host Ann Revell-Pechar on Carolina Connections. Make your connection with these inspiring leaders as they offer insights into their success and tell the story of business in Carolina. Carolina Connections airs weekly on Tuesdays at 11am EST.
About Business RadioX®:
Business RadioX® interviews dozens of innovative entrepreneurs and successful leaders each week. Its mission is to help local businesses Get The Word Out about the important work they're doing for their market, their community, and their profession. With a pro-business slant and a long-form interview format, guests don't have to worry about being ambushed or talking in "sound bites." Guests have enough time to tell their whole story and to share their insights and experience without interruptions. BusinessRadioX® hosts are business professionals interviewing their peers, drilling down on the critical issues, and delivering practical information to an engaged business audience. Business topics that are frequently covered include: Law, Finance, Healthcare, Technology, Trade Shows, B2B Marketing, Venture Capital, Training and Development and other issues impacting the business community. For more information, visit: http://www.businessradiox.com.