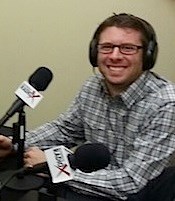 We believe dedicated internet speed and quality is not an option when running a business.
Atlanta, GA (PRWEB) February 07, 2014
On January 3, 2014, host Ann Revell-Pechar of Bridges to Business on Wilmington Business RadioX® welcomed to the studio Shaun Olsen with CloudWyze.
In 2012, CloudWyze, Inc. was co-founded by Olsen and capital was raised to seed the start of a specialized cloud delivery platform. According to Olsen, "CloudWyze provides a turnkey solution to cloud migrations for businesses ranging from 5 to over 500 employees." The formation of CloudWyze extended the reach from Southeast North Carolina to nationwide in less than 12 months.
As President and CEO, Olsen leads the company in just about every facet and remains a business operational resource for numerous companies faced with challenges. CloudWyze combines the concepts of comprehensive IT management with enterprise-grade infrastructure to offer powerful technology solutions. "We are a national technology provider with a local attitude," said Olsen. "We believe dedicated internet speed and quality is not an option when running a business."
Olsen is an active member in numerous professional organizations in the greater-Wilmington area. He is a strong leader in the tech community and has been a part of various tech start ups over the last 15 years. Olsen was originally involved with BBXComputers, LLC and Opterex, LLC, the service providers combined to form CloudWyze.
To learn more about Olsen and Cloudwyze, listen to the complete interview on Bridges to Business.
About Bridges to Business:
http://bridgestobusiness.businessradiox.com/
There are more than 12,700 bridges in North Carolina, connecting people and work. Bridges-to-Business (BtoB) features interviews with fascinating people who are helping North Carolina grow and prosper – no matter which bridge they crossed to get here. Bridges to Business is hosted by Wilmington Business RadioX®'s Ann Revell-Pechar and airs each Friday at 3:30pm EST.
About Business RadioX®:
BusinessRadioX® interviews dozens of innovative entrepreneurs and successful leaders each week. Its mission is to help local businesses Get The Word Out about the important work they're doing for their market, their community, and their profession. With a pro-business slant and a long-form interview format, guests don't have to worry about being ambushed or talking in "sound bites." Guests have enough time to tell their whole story and to share their insights and experience without interruptions. BusinessRadioX® hosts are business professionals interviewing their peers, drilling down on the critical issues, and delivering practical information to an engaged business audience. Business topics that are frequently covered include: Law, Finance, Healthcare, Technology, Trade Shows, B2B Marketing, Venture Capital, Training and Development and other issues impacting the business community. For more information, visit: http://www.businessradiox.com.