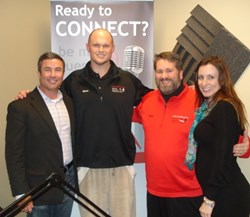 Safety Net provides clients the opportunity to learn and practice spiritual principles of recovery.
Atlanta, GA (PRWEB) February 14, 2014
On January 24, 2014, co-hosts Wes Warrington and Tracy Youngblood-McDaniel of BusinessRadioX®'s Testing the Experts sat down in the Gwinnett studio with Steven Herndon and Taylor Hagin from Safety Net Recovery to talk about rehabilitation for men struggling with addiction.
Steven Herndon, Executive Director, and Taylor Hagin, Program Director, operate Safety Net Recovery, a 60 bed facility for men seeking sober living. They provide support, structure and instruction to each client, giving them the best opportunity to learn and practice spiritual principles of recovery.
Safety Net has tailored programs for men with tracks for Young Adults (Age18-26), Adults (Age 27-60), Older Adults (Age 61 and Older) and their Healthcare Professional Program. According to Herndon, "We requires a 6 month commitment at admission with a maximum stay of 18 months if a long term situation is needed. Safety Net requires all applicants to have 30 days documented sobriety and be willing to embrace the 12-Step program."
Safety Net combines many services to assist in its clients' success, including community meetings and specialized therapy groups, interactive journaling, monthly outings, random drug screening, recreational activities and health referrals.
To learn more about Safety Net Recovery, listen to this complete interview on Testing the Experts.
About Testing the Experts:
http://testingtheexperts.businessradiox.com
Testing the Experts, presented by Confirmatrix Laboratory, introduces you to the top physicians, treatment centers and rehabilitation facilities, researchers, law enforcement personnel and other organizations in Atlanta to discuss their work and examine how drug testing and trends in patient care as well as drug usage plays a part in their day to day operations. Testing the Experts is co-hosted by Wes Warrington and Tracy Youngblood-McDaniel and airs each Friday at 1:00pm EST.
About Confirmatrix Laboratory:
Confirmatrix Laboratory Inc. is an independent laboratory in Lawrenceville, Georgia specializing in providing comprehensive clinical quantitative urine and oral fluid drug testing, medication monitoring, and support services. In addition, Confirmatrix provides time saving, economical, and accurate on-site/point of collection analysis for drugs of abuse, therapeutic drugs, employment drug screening, and occupational health testing. For more information, visit http://www.confirmatrixlabs.com.
About Business RadioX®:
BusinessRadioX® interviews dozens of innovative entrepreneurs and successful leaders each week. Its mission is to help local businesses Get The Word Out about the important work they're doing for their market, their community, and their profession. With a pro-business slant and a long-form interview format, guests don't have to worry about being ambushed or talking in "sound bites." Guests have enough time to tell their whole story and to share their insights and experience without interruptions. BusinessRadioX® hosts are business professionals interviewing their peers, drilling down on the critical issues, and delivering practical information to an engaged business audience. Business topics that are frequently covered include: Law, Finance, Healthcare, Technology, Trade Shows, B2B Marketing, Venture Capital, Training and Development and other issues impacting the business community. For more information, visit: http://www.businessradiox.com.