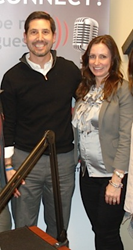 Twenty-four million Americans struggle with chemical dependency.
Atlanta, GA (PRWEB) March 10, 2014
On February 7, 2014, co-hosts Wes Warrington and Tracy Youngblood-McDaniel of BusinessRadioX®'s Testing the Experts sat down in the Gwinnett studio with Bill Anderson from MARR, Inc. to talk about long-term residential treatment for addiction.
Bill Anderson is the Director of Business Development for MARR, Inc., a private, non-profit organization established in 1975 to provide long-term residential treatment to men and women affected by addiction. MARR is dedicated to bringing lasting recovery through high-quality, gender-specific, drug and alcohol treatment programs. During Anderson's tenure at MARR, he has held the positions of House Manager, Primary Therapist at the Men's Recovery Center, Group Leader at the Women's Recovery Center, and Director of Admissions. Anderson also conducts educational lectures for the Family Recovery Center and group therapy sessions at the Women's Center. He provides both individual counseling and couples counseling for families struggling with addiction.
According to Anderson, "Twenty-four million Americans struggle with chemical dependency. Drug and alcohol abuse can lead to addiction which, if left untreated, can lead to death." MARR's long-term residential programs are centered on the therapeutic community model. Explained Anderson, "For many individuals who struggle with chemical dependency, professional help is necessary to begin their journey into long-term recovery." MARR's therapeutic community model includes individual and group therapy, educational groups, medical care, a staff of licensed and certified counselors, 12-Step work and meetings, as well as varying levels of family involvement.
"An important aspect of the therapeutic process is facilitated through contracts," said Anderson, adding, "As members of the community, clients develop growth goals and concrete goals for themselves." Put together in the form of a contract, these objectives are presented to the community to establish accountability and support. Community members become responsible to the other members of their group and help them work toward their goals.
To learn more about MARR's approach to lasting recovery, listen to this complete interview on Testing the Experts.
About Testing the Experts:
http://testingtheexperts.businessradiox.com
Testing the Experts, presented by Confirmatrix Laboratory, introduces you to the top physicians, treatment centers and rehabilitation facilities, researchers, law enforcement personnel and other organizations in Atlanta to discuss their work and examine how drug testing and trends in patient care as well as drug usage plays a part in their day to day operations. Testing the Experts is co-hosted by Wes Warrington and Tracy Youngblood-McDaniel and airs each Friday at 1:00 p.m. EST.
About Confirmatrix Laboratory:
Confirmatrix Laboratory Inc. is an independent laboratory in Lawrenceville, Georgia specializing in providing comprehensive clinical quantitative urine and oral fluid drug testing, medication monitoring, and support services. In addition, Confirmatrix provides time saving, economical, and accurate on-site/point of collection analysis for drugs of abuse, therapeutic drugs, employment drug screening, and occupational health testing. For more information, visit http://www.confirmatrixlabs.com.
About Business RadioX®:
BusinessRadioX® interviews dozens of innovative entrepreneurs and successful leaders each week. Its mission is to help local businesses Get The Word Out about the important work they're doing for their market, their community, and their profession. With a pro-business slant and a long-form interview format, guests don't have to worry about being ambushed or talking in "sound bites." Guests have enough time to tell their whole story and to share their insights and experience without interruptions. BusinessRadioX® hosts are business professionals interviewing their peers, drilling down on the critical issues, and delivering practical information to an engaged business audience. Business topics that are frequently covered include: Law, Finance, Healthcare, Technology, Trade Shows, B2B Marketing, Venture Capital, Training and Development and other issues impacting the business community. For more information, visit: http://www.businessradiox.com.