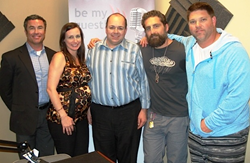 When someone turns his or her life around through a recovery program, it's amazing.
Atlanta, GA (PRWEB) April 08, 2014
Testing the Experts, a radio show presented by Confirmatrix Laboratory on Gwinnett Business RadioX®, featured Kelly Moselle with A BlueHorizon Residential Treatment, and Dana Rider and Kevin Short with Real Recovery on the March 28, 2014 episode. Content focused on the work done in their respective recovery treatment centers and how these individuals devote their lives to helping others overcome addiction.
Kelly Moselle, President of the Georgia Area of Recovery Residence (GARR) and a Recovery Consultant in the Metro Atlanta area, discussed the impact his Residential Treatment center has on the area. A BlueHorizon offers services to men and women who suffer from addiction, and offers a 12-step program of recovery.
"If recovery were easy, anyone could do it," stated Moselle. "It's tough finding a place that cares about you and will help you through the process. When someone turns his or her life around through a recovery program it's amazing. That's why I do what I do."
Kevin Short and Dana Rider, Co-founders of Real Recovery, spoke in conjunction with Moselle. Their business is a halfway house and treatment program in Asheville, NC for young men suffering from substance abuse and addiction. Both men are recovering addicts, and therefore take a common sense approach to rehabilitation. While discussing the success he has seen with his own addiction, Short said. "I knew if I didn't get help and start helping others, I'd end up dead." He and Rider "wanted to open something that never has existed before. We're passionate about what we do, and it shows."
To learn more about BlueHorizon and Real Recovery, listen to this complete interview on Testing the Experts.
About Testing the Experts:
http://testingtheexperts.businessradiox.com
Testing the Experts, presented by Confirmatrix Laboratory, introduces you to the top physicians, treatment centers and rehabilitation facilities, researchers, law enforcement personnel and other organizations in Atlanta to discuss their work and examine how drug testing and trends in patient care as well as drug usage plays a part in their day to day operations. Testing the Experts is co-hosted by Wes Warrington and Tracy Youngblood-McDaniel and airs each Friday at 1:00 p.m. EST.
About Confirmatrix Laboratory:
Confirmatrix Laboratory Inc. is an independent laboratory in Lawrenceville, Georgia specializing in providing comprehensive clinical quantitative urine and oral fluid drug testing, medication monitoring, and support services. In addition, Confirmatrix provides time saving, economical, and accurate on-site/point of collection analysis for drugs of abuse, therapeutic drugs, employment drug screening, and occupational health testing. For more information, visit http://www.confirmatrixlabs.com.
About Business RadioX®:
BusinessRadioX® interviews dozens of innovative entrepreneurs and successful leaders each week. Its mission is to help local businesses Get The Word Out about the important work they're doing for their market, their community, and their profession. With a pro-business slant and a long-form interview format, guests don't have to worry about being ambushed or talking in "sound bites." Guests have enough time to tell their whole story and to share their insights and experience without interruptions. BusinessRadioX® hosts are business professionals interviewing their peers, drilling down on the critical issues, and delivering practical information to an engaged business audience. Business topics that are frequently covered include: Law, Finance, Healthcare, Technology, Trade Shows, B2B Marketing, Venture Capital, Training and Development and other issues impacting the business community. For more information, visit: http://www.businessradiox.com.