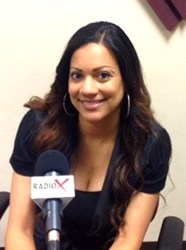 This community will be home for 46 memory-impaired residents.
Atlanta, GA (PRWEB) August 05, 2013
On July 26, 2013, co-hosts Brad Culp and Sam Grass of Business RadioX®'s Eugeria! Radio™ welcomed to the studio Divine Taylor to learn about the opening this fall of Autumn Leaves of Sugarloaf.
Autumn Leaves Assisted Living communities specialize in memory care. With 27 facilities, each community has an on-site licensed nursing staff with specialized expertise in dementia care.
Divine Taylor is Director of Sales and Marketing with Autumn Leaves. According to Taylor, "We are working diligently to open the doors of Autumn Leaves of Sugarloaf this fall, our first Assisted Living Memory Care facility in the Atlanta area." This community will be home for 46 memory-impaired residents once licensure is finalized. Explained Taylor, "It will be unique in its focus on creating a community for its residents where they will be able to stay throughout the progression of their disease."
From an early age, Taylor has had a passion for caring for seniors. Originally from Falls Church, Virginia, Taylor attended Bowie State College in Maryland. Though her early career was in sales in an unrelated industry, Taylor worked as a volunteer on weekends with a friend's non-profit organization helping to arrange companion care for seniors. She also served as a caregiver for her grandmother, who suffered with Alzheimer's until she passed. These experiences led Taylor to seek out the Autumn Leaves family of memory care communities.
To learn more about the opening of Autumn Leaves of Sugarloaf, listen to the complete interview on Eugeria! Radio™.
About Eugeria! Radio™:
http://eugeria.businessradiox.com/.
Eugeria! Radio™ is a weekly radio show on Business RadioX® celebrating those who have given their careers to serving seniors and disabled individuals to make their lives comfortable, meaningful and fulfilled. Eugeria is sponsored by Griswold Home Care and is hosted by Brad Culp, Sam Grass and Kevin Finn.
About Business RadioX® :
Business RadioX® provides a turnkey solution for business owners who want to leverage the power of internet radio to meet their best prospects, establish credibility for their organization and heighten the placement of their brand in search engines rankings. With a professional venue and a proven formula, Business RadioX® helps hosts podcast their shows and create a regular stream of dynamic content to share with their prospects and feed the search engines every week. Programs are recorded and streamed live to the internet from our studios in the greater Atlanta area. For more information or to hear a live show, visit: http://www.businessradiox.com.